I have a plan to invest slowly and gradually into Solana coins, my goal is to own 100 coins and sell call options with them on the Deribit crypto trading platform.
In fact, unlike the stock market, on the deribit platform, we don't need even 100 coins for selling covered calls, just one is enough to dip your toes in the water
Unfortunately, I'm not very familiar (yet) with the Solana coin nor the idea behind this coin, I just noticed this coin for trading on the Deribit platform, and as it was trading in an acceptable price range (around $35 in September 2022), I decided to buy a few and sell covered calls on them. 
Disclosure:  This article contains affiliate links to deribit.com bitcoin options trading website, by clicking on links on this page and by investing with deribit, I will earn affiliate income at no cost to you. Also, I'm not a financial advisor and I don't give you any advice, I'm just sharing my own experience. Investments in stocks, funds, bonds or cryptos are risk investments and you could lose some or all of your money. Do your due diligence before investing in any kind of asset.
Of course, I could go all in and buy those 100 coins instantly, transfer them to the platform and start selling covered calls. I could, but here is why I opted not to do
I don't have spare $3,500 at the moment to invest in an unknown coin
Dollar-cost averaging. Too often I have seen (in the stock market) - I buy something and then it drops. Sometimes it goes up, but more often it goes down. Anyhow to play safe, I decided to grow this account slowly, over time.
I plan to invest small bits once a time and use income from the trading to grow this account.
By September 23, 2022, I have invested 
$169.74 into 
5.021485 SOL coins, with my average buy price being $33.80 per coin. Additionally, I've made 
0.209 SOL (or about 4.16%) from my initial investment by trading call options on the deribit platform in 14 days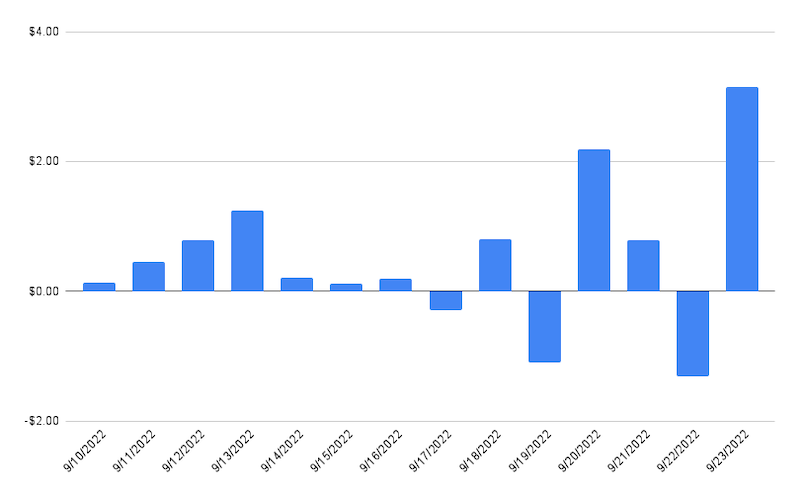 My plan is to sell covered call options only (at least with the first 50 coins), right now it seems I could make about 0.004-0.006 SOL/day per coin. As I'm already holding 5 SOLs, that means I would make 0.02-0.003 daily (these are just rough estimates), which means it would take 33-50 days to generate 1 SOL coin.  Not to bad.
I'm looking to reach 100 SOL coins by the end Q1 2023, as there are some 6 months left, it would ask me to invest in about 15 coins per month. On the other hand, 15 coins would be capable of trading call options with a daily premium of about 0.06 - 0.09 SOL. It could add up on monthly basis to 1.2 - 1.8- SOL.
Well, these are just rough estimates, I could get there much sooner or later. I don't have an exact stone carved plan, just some general guidelines. 
Interested to learn more? I'm offering paid - online live course Selling Covered Call Options on Crypto (BTC/ETH/SOL)