In April I re-started trading bitcoin futures on the Deribit platform and after 90 trades were able to book 0.001582285605 BTC profit, about $60.13 if exchanged to the USD value.
That said, welcome to the #1 bitcoin futures trading report (hopefully, not the last).
Disclosure: This article contains affiliate links to the deribit.com options trading website, by clicking on links on this page and by making an investment on derbit.com, I might earn affiliate income at no cost to you.
I started trading Bitcoin futures on April 10, by purchasing 0.00025006 BTC for EUR 10 on Coinbase, to avoid liquidity issues I deposited an additional  0.00026 BTC on April 14, and  0.00027 on April 18.
The total investment: 0.00078006 BTC. On which I was able to take 0.001582285605 BTC profit. About 202.84% profit in just 21 days. Many times I was tempted to deposit more and take much bigger gains, but all the time I was able to resist the temptation
For most of the month, BTC was hovering around $40,000 and I entered both long and short positions. I noticed BTC is very closely following the stock market, and goes up on the green days and goes down on the red days. For now, the simple maths seems to follow the stock futures data on CNBC.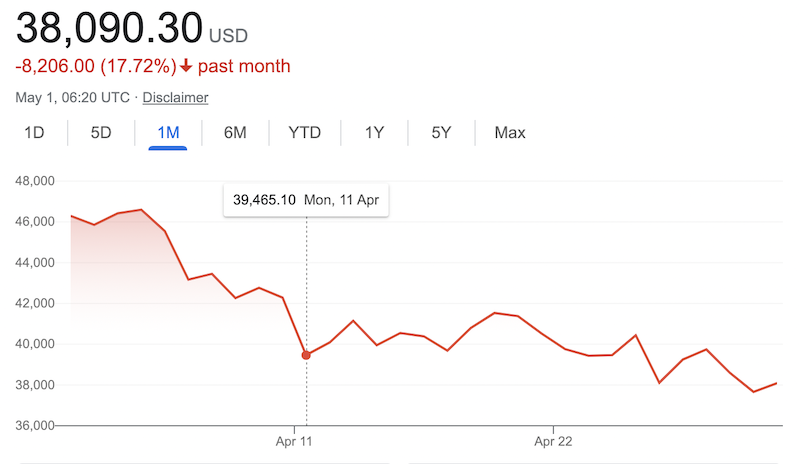 During the month of April Bitcoin's price dropped by more than 17%. I experimented with my trade sizes and seems I've found the sweet spot of trading about 1/10 my trading capital per trade.
Trading futures with 50x leverage might be very dangerous, to adjust the risks - trade size matters.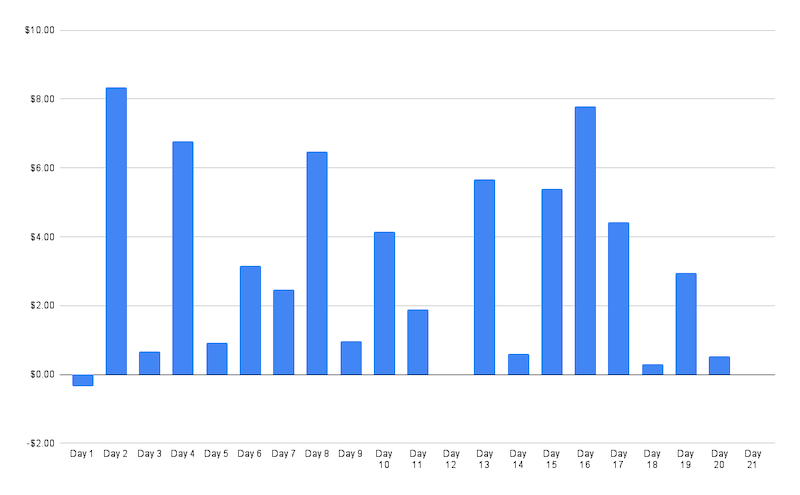 On my best 3 trading days, I was able to take $8.35, $7.79, and $6.77
For the truth's sake, I still have two long trades open (as of May 1st, 2022). Entered them with $200 capital at the end of April, with the strike prices - 
$40,336.50 and $38,616.50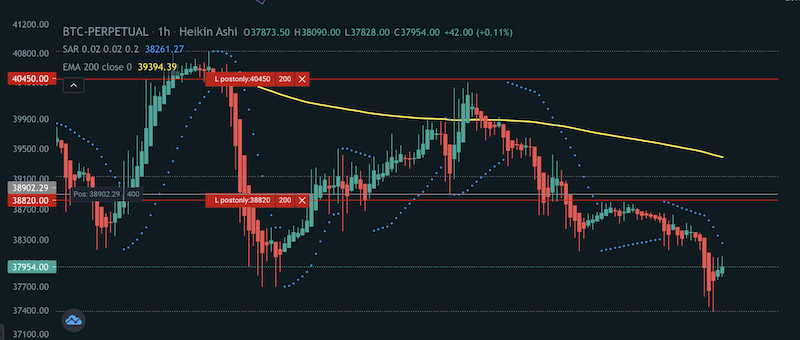 My current estimated liquidation price: is $35,780 or the current initial margin standing at 26%.
As long as Bitcoin doesn't fall under $35,780 I'm safe. To exit the trades and book the profit I need Bitcoin to take back that $40,000.
I won't open any additional trades before exiting the current one. Though I will deposit an additional USD 10/week in new bitcoin purchases to beef up my buying power / lower the estimated liquidation price.
Once I was able to book a $50 profit, I withdrew it back to my Coinbase account and held it to finance our daughter's preschool here in Tbilisi. I will need about $5,000 for the next - 2022/2023 school year. 1% already reached.
No idea where the month of May will take me, but I would be happy to see even a 50% gain this month.
P.S, Last month I launched my first token sale for raising funds for buying real estate in Batumi