Welcome to my second laptop reviews post series, today I will write about a ASUS D550MAV-DB01(S) 15.6 inches laptop model which is available for sale on Amazon.
Update: See Top 21 Best Selling Asus Laptops in 2016
I first wrote about it's predecessor ASUS D550MAV-DB01 back in September, 2014 when I listed Best ASUS laptops.
Generally speaking this version is an upgraded version of D550MAV-DB01 - compared to it's older version this laptop will cost around 50-80 dollars more than it older version, and here are the only reasons I found you should pay more: compared to it's older version this one comes with a CD/DVD reader/writer, though it ads extra weight totalling in 5 pounds.
Please note those items are available for sale on Amazon, by clicking on links on this page and by making a purchase on Amazon site, I will earn an affiliate income from that.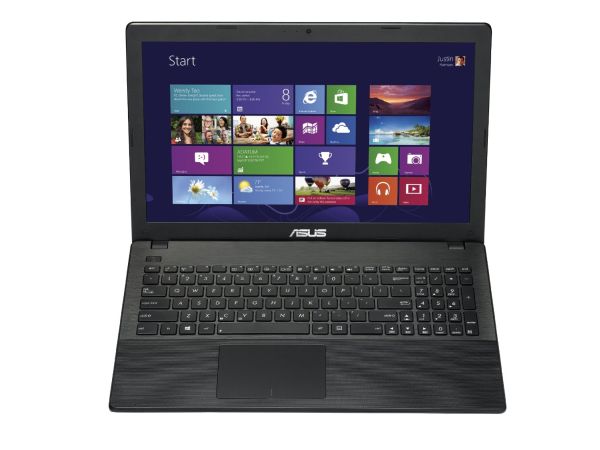 ASUS 15.6" HD Intel Dual-Core Laptop (Celeron 2.16GHz, 4GB RAM, 500GB Hard Drive)
Dimensions: 19.10 x 2.60 x 11.80 inches
Specs for D550MAV-DB01(S):
Intel Celeron-N2840 Dual-Core 2.16GHz (Turbo to 2.58GHz). 4GB RAM. 500GB Hard Drive.
15.6" High Definition Display. Webcam.
Multitouch Trackpad. Optical Drive (DL DVD±RW/CD-RW).
Wireless 802.11N. Ethernet Port.
1x USB 3.0, 1x USB 2.0, HDMI, VGA. SD card reader (SDXC).

Manufacturer

ASUS Computers

Part Number

D550MAV-DB01(S)

Price

Frankly speaking the only thing I would consider when buying this model - will I be happy with Intel Celeron processor?
Regarding to other details, and taking into account that it comes with DVD/CD Reader and Writer I would consider this laptop a pretty good choice.
From the manufacturer
Featuring a full-sized 15.6 inch HD display and the latest Intel dual core processor, the ASUS D550MAV is the perfect everyday notebook with the performance to tackle any task you throw at it– whether you're studying or just having fun. With crystal-clear sound and picture thanks to ASUS SonicMaster and Splendid Technology, the only thing more impressive than the D550MAV's performance is its price tag.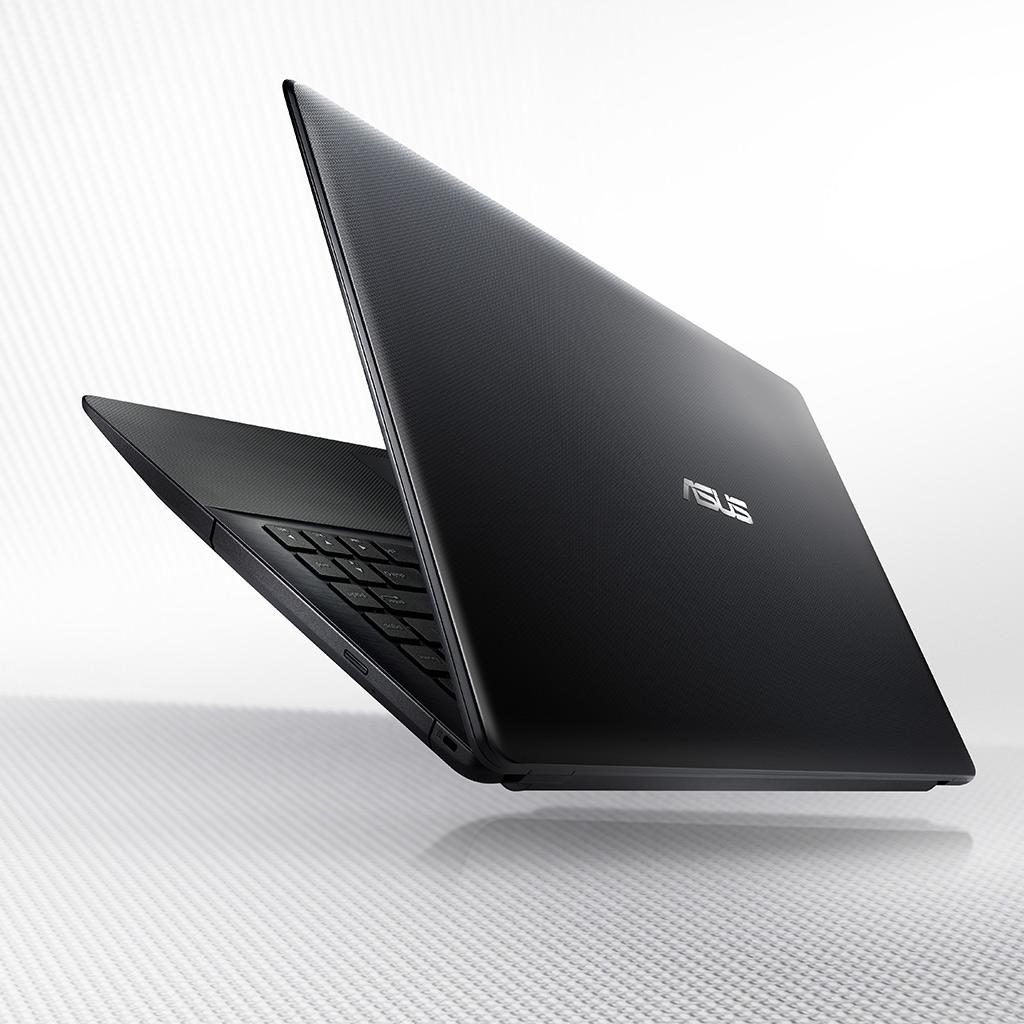 The D550MAV features an elegantly textured finish for a comfortable grip while preventing scratches and fingerprints. The glossy screen and hidden hinge design complete the clean, seamless look and accent the display, which features Splendid video technology. ASUS has developed Splendid Technology to provide 4 preset modes – Normal, Theater, Vivid and Manual – to optimize your viewing experience. The D550MAV analyzes the image and fine-tunes it to your setting. Now you can study without fatiguing your eyes, scroll through photo albums with richer and more vibrant colors, and pop your favorite DVD or video game into the optical drive and see crystal clear sharpness and true-to-life visuals.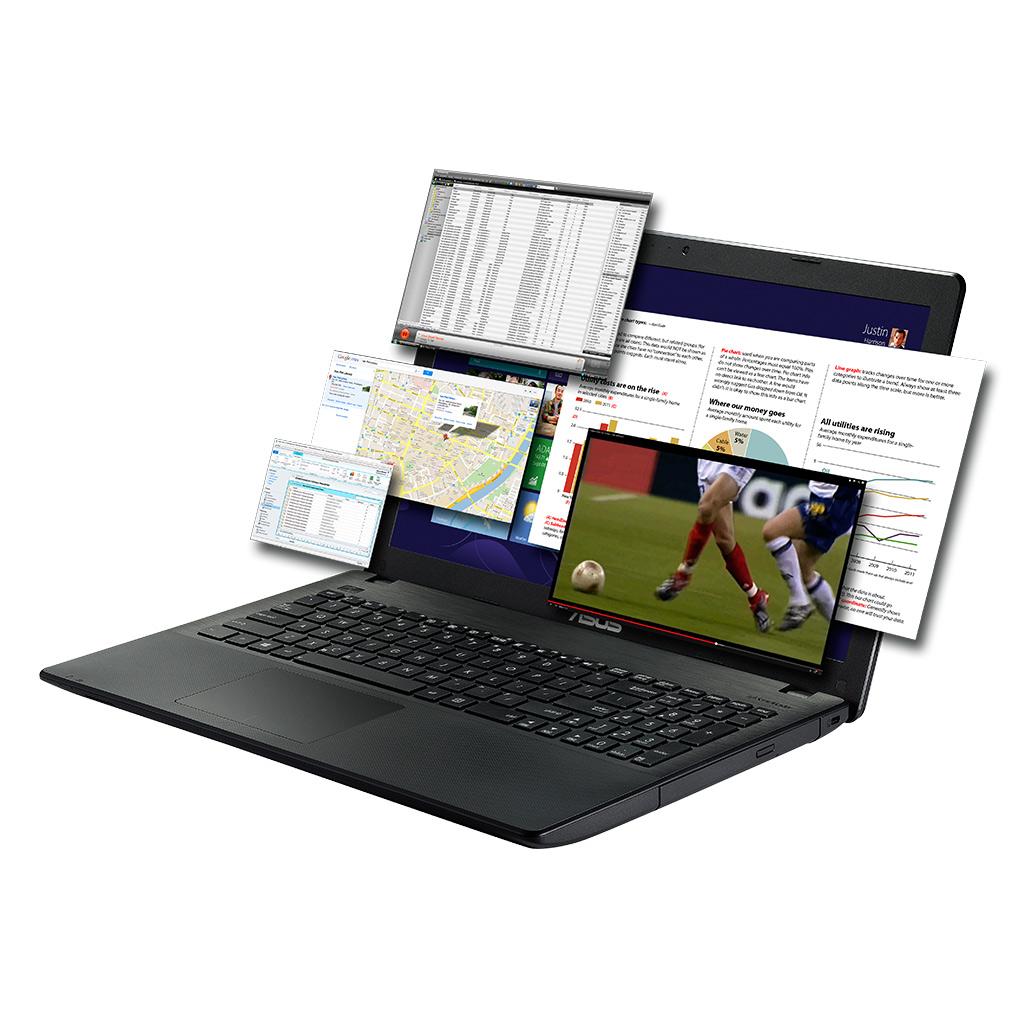 Whether you're studying or playing your favorite video game, the D550MAV offers the ultimate mix of productivity and entertainment. The latest Intel Bay Trail-M N2840 Dual Core Processor lets you use multiple applications without having to worry about lag or killing your battery. Sporting the ASUS Super Hybrid Engine II, the D550MAV can lasts in standby mode for up to two weeks and wakes up in just 2 seconds (7 seconds faster than industry standard). You'll never wait through frustrating reboot times again – or slow transfer speeds for that matter. The D550MAV's USB 3.0 port is 10 times faster than USB 2.0 so you can move a 25GB Blu-ray-quality move is just 70 seconds. And with built-in VGA and HDMI ports, you can easily connect the D550MAV to an external monitor or TV for big-screen entertainment.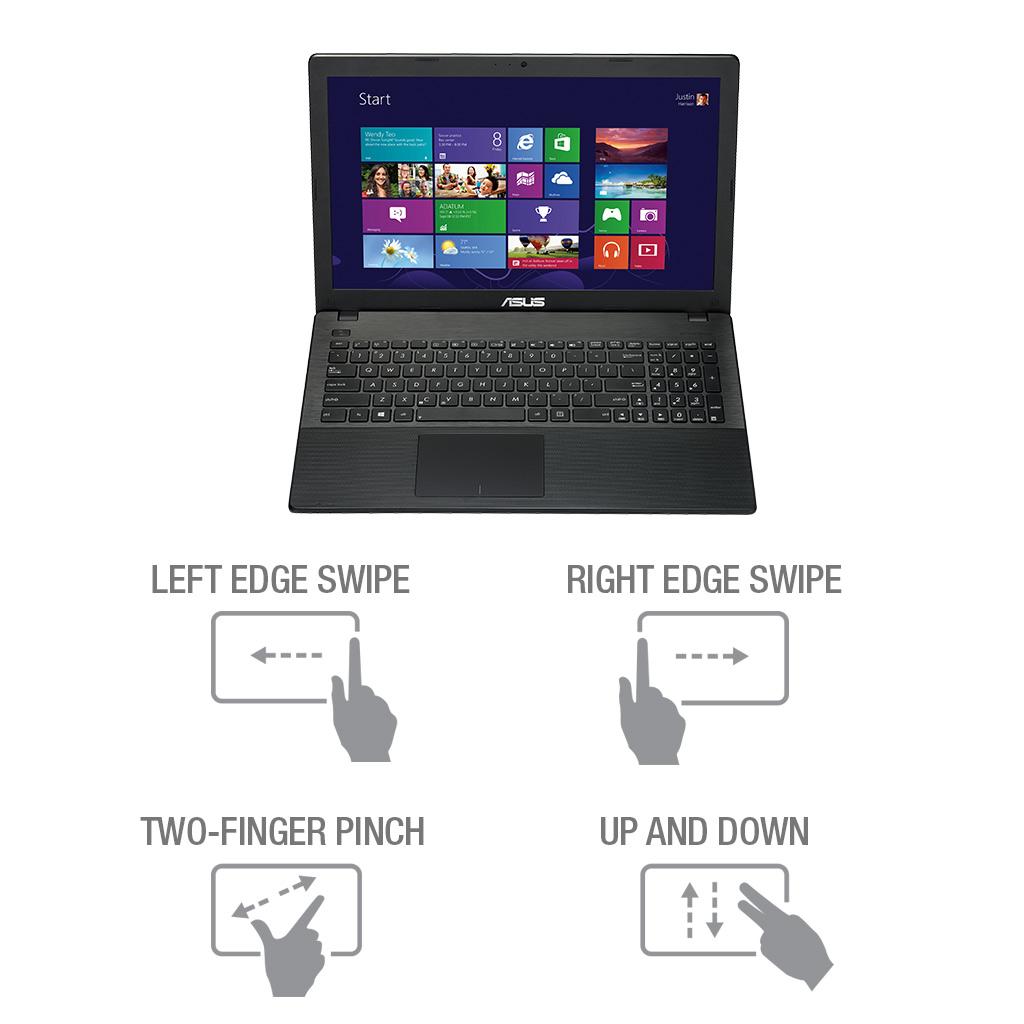 The D550MAV features Smart Gesture technology for easy and smooth navigation. Pinch-zoom in on pictures, scroll up and down, and swipe quickly between pages without ever needing a mouse. It's all intuitive, just like navigating your Smartphone or tablet. With a touchpad that's 47% larger than other brands, maneuvering your applications has never been easier or more responsive. ASUS has matched the touchpad with a chiclet keyboard that's been integrated into the body for a seamless, ergonomic design. And with IceCool technology, the D550MAV's palm rest – whose unique internal layout keeps heat-producing parts away from your hands – never rises above body temperature. You'll be able to work or play for hours

Manufacturer

ASUS Computers

Part Number

D550MAV-DB01(S)

Price