Today I red an interesting article on News.az - it turns out Azerbaijan avio carrier Azerbaijan Airlines has increased its flights from Baku to New York city.
At a start I was surprised to learn that there is an offer of direct flights at all, but having increased number of flights might mean just one - Economy of Azerbaijan is soaring, and those located in Caucasus (for example, me) now have an alternative for Istanbul flights.
Here is the news report:
AzerTag reported earlier that on 24 September JSC "Azerbaijan Airlines" began to operate direct flights between Baku and New York.
For two months the flights between the Heydar Aliyev International Airport and John F. Kennedy International Airport were carried out twice a week. Starting from December 8, "Azerbaijan Airlines" will operate three flights a week on Monday, Wednesday and Saturday.

Head of the "Azerbaijan Airlines" Office in the UK and the US Kamran Ghajar noted that modern aircraft Boeing 787 (Dreamliner), acquired by the company this year, will operate flights from Baku to New York in the summer of 2015.

At present, the "Azerbaijan Airlines" operates transit flights from New York via Baku to the following cities (and back): Aktau, Bishkek, Istanbul, Tehran, Tel Aviv and Tbilisi. Passengers bound for Baku can purchase tickets at travel agencies or directly in the Internet themselves on www.cheapoair.com, www.kayak.com, www.priceline.com.

"Azerbaijan Airlines" is in talks with a number of other specialized travel websites for comfort and enhancement of tickets purchase.

It should be noted that the citizens of the United States, traveling to Baku by AZAL airplanes, can obtain a short-term entry visa to Azerbaijan upon arrival at the Heydar Aliyev International Airport. Services are provided by the Consular Department of the Ministry of Foreign Affairs of the Republic of Azerbaijan.
http://news.az/articles/economy/94158
Now I tried to figure out what might be the price for such a flight - Baku - New York City - Baku, and I did it on Azerbaijan Airlines website http://www.azal.az turns out such flight will cost you starting AZ 582 what is around $740.00 if booked about 1 month in advance.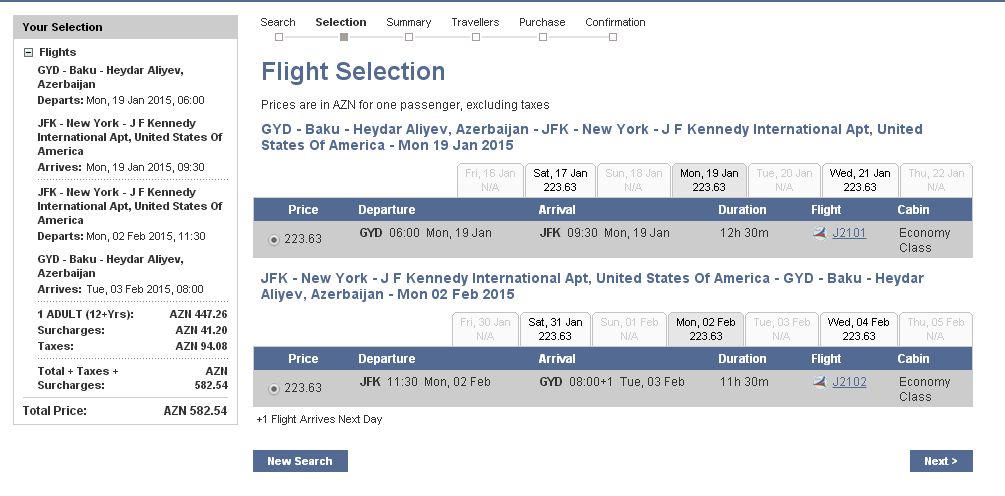 Baku NYC flights
Honestly speaking such offer is not very attractive for me, because for me it's less expensive to have flights to US from Istanbul (Turkish Airlines offers round-trip flights for about $550), but I still must admit - it's nice to know that now there is an alternative.
If you are searching for direct NYC - Baku flights - consider Azerbaijan Airlines, and don't forget to leave me a comment :)