Yesterday (February 5, 2023), when checking my daily charts for Ethereum trading I noticed a potential golden cross forming for BTC/USD (also ETH/USD) charts for the 50/200 days Moving averages trading indicator.
The golden cross is a popular technical indicator used in stock and crypto trading.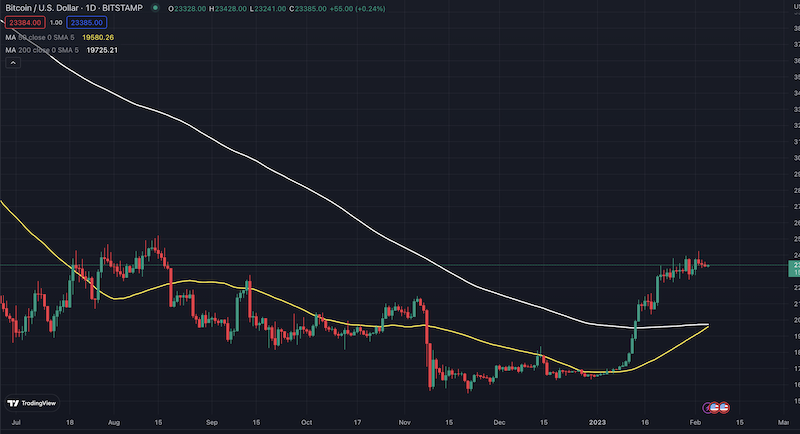 A golden cross is a chart pattern in which a relatively short-term moving average crosses above a long-term moving average. The golden cross is a bullish breakout pattern formed from a crossover involving a security's short-term moving average (such as the 50-day moving average) breaking above its long-term moving average (such as the 200-day moving average) or resistance level. As long-term indicators carry more weight, the golden cross indicates a bull market on the horizon and is reinforced by high trading volumes.
The previous time BTC crossed the golden cross was back in September 2021, when BTC jumped from $45,900 to its all-time high of $69,000 in November 2021, just in about two months. Representing about 50% growth.
A correction followed in January 2022 when Bitcoin crossed the so-called death cross at $48,500  - the bear market we have been in ever since.
With the current Bitcoin price of $23,370, that also means about a 50% drop.
In case BTC/USD enters the Golden cross now - I wouldn't be surprised to see a 50% gain - which translates to a high price of about $35,000. Just speculation. Do your own research!
An opposite shouldn't be excluded too - if the cross doesn't happen, a pullback from the current $23,500 to 20-18k is more than possible.
Trade safe!