For a prelude, I have been a core Linode VPS user for the past last 3 years. Currently, I'm running 4 separate Linode VPS (on one of them this blog is running). I'm paying a pretty solid amount of money to Linode each month. And of course, I'm a proud Linode affiliate. That's actually a reason why I decided to wrap up a blog post comparing Linode to other VPS provider, and this time I have chosen Bluehost VPS.
Disclosure: This article contains affiliate links to Bluehost.com, by clicking on links on this page and by making a purchase on Bluehost site, I will earn an affiliate income at no cost to you. 
The other day reading some other blogger's income reports I found that Bluehost's affiliate program is performing very well for some top-notch blogs. I decided to take a closer look what Bluehost VPS actually offers.
In this post, you will find my findings of comparing cheapest available options from Linode VPS and Bluehost VPS
Pricing
Lets start with easy one - pricing.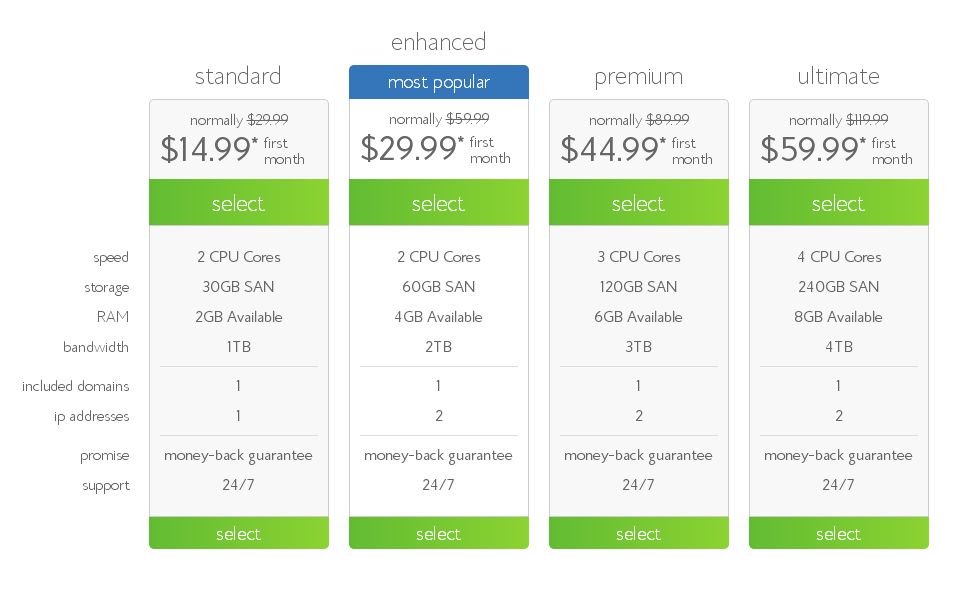 Bluehost VPS plans
By default Bluehost VPS offers 4 plans: standard, enhanced, premium and ultimate. The cheapest one comes with the price $29.99 / per month (first month $14.99) and most expensive will cost you $119.99 a month ($59.99 first/month)
Linode Plans
Linode offers 9 plans, and they are named after the RAM each plan offers, the cheapest one - 1GB RAM plan costs  - $10/per month while the most expensive (Linode 96GB) will cost you $960/monthly (no discounts applied here)
Winner: Linode 1GB ($10/per month) - Currently there is one Linode 1GB plan I'm using for hosting some of customer websites - and yet I haven't experienced any problem with it for storing little trafiicated Drupal websites
Storage
Lets compare again cheapest plans both for Bluehost and Linode:
Bluehost's Standard plan comes with a 30GB storage, while Linode 1GB comes with a 24GB storage. Both of the plans offers plenty of storage for a simple website (s), at first by looking on these numbers seems that the winner is Bluehost, although taking into account that for this plan you are paying 3 times more than for Linodes cheapest plan 6GB extra storage for extra $19.99 doesn't seems a very good deal.
In fact you can get extra 6GB of storage from Linode just for $6 per month 

Linode Extra Storage
Winner: Bluehost's standard plan offers more storage by default
RAM
Bluehost's standard plan comes with the 2GB RAM, while Linode 1GB plan comes with just 1GB of RAM. Again you can choose Linode's 2GB plan for $20.00 per month and Linode will beat Bluehost again, but in case we are comparing cheapest plans from both VPS services providers - Bluehost's Standard plans offers more RAM than Linode 1GB plan.
Speed
Bluehost Standard plan comes with the 2  CPU cores, while Linode 1GB plan comes just with 1 CPU core, again - you can easily upgrade to Linode 2GB plan to have 2 cores, and Linode will beat Bluehost again. 
The Bottom Line
Both VPS providers are good at what they are doing. As I already stated at the start of this post - I'm an eager Linode user, and I find that Linode will beat Bluehost in all verticals for more technical persons, while Bluehost offers decent service for some extra money (thus Bluehost offers graphic interface, a free Cpanel and some other extras, while in Linode the best you will get probably is a Putty terminal for Windows users)
My recommendations for VPS beginners pay that extra dollar and use Bluehost, while the more advanced users will find Linode as their best finding.