When I first noticed hashtag #cryptocrash on Twitter on November 8, 2022, I was lightly entertained. At that moment I was holding just some small bits with Bitcoin and Solana on Coinbase and Deribit trading platforms.
But things slowly turned out of control and by November 9, 2022, it was already clear what the heck is going on - turned out the cryptocurrency trading company FTX was busted. As we learned during the crash - Binance backed out of FTX rescue, leaving the crypto exchange on the brink of collapse.
On Monday night, facing a liquidity crunch, Bankman-Fried was scrambling to raise money from venture capitalists and other investors before he went to Binance, according to sources with knowledge of the matter. Zhao initially agreed to step in, but his company quickly changed course, citing reports of "mishandled customer funds and alleged U.S. agency investigations."
Most, if not all, cryptocurrencies were bleeding with the hardest being hit FTX native token FTT and Solana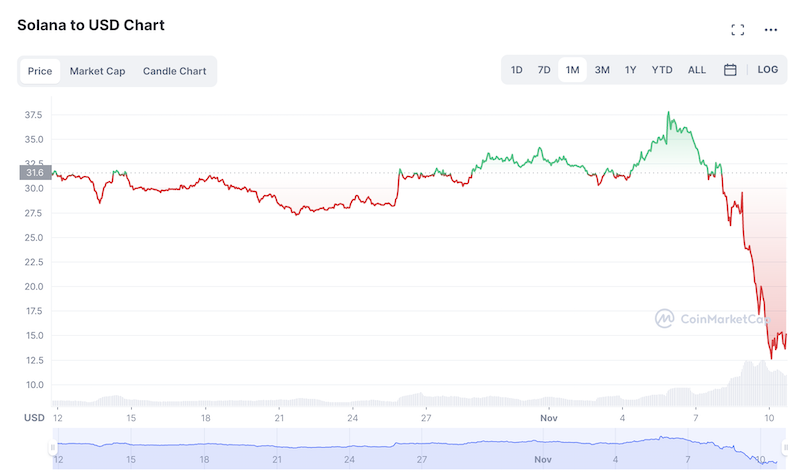 As I was holding some 30 coins with SOL, I didn't cry a lot but instead figured out I should keep dollar cost averaging and trading call options on deribit trading platform.
Unfortunately on November 10, 2022 deribit announced they are suspending new SOL options on the trading platform until further notice.
There will be no new SOL options and futures expiries until further notice. This does not affect the potential of new strikes in existing expiries
I have this 50/50% feeling regarding Solana. In general, I'm quite positive about Solana, but you never know.  On the other hand, I'm much more confident about Bitcoin and Ethereum. Hopefully, Solana will weather the storm too. 
As deribit stopped opening new options contracts for Solana, decided to restart trading options with ETH.
Now, let's see, will the Solana coin will be around in 2023, 2025, or 2030. And what will be the price of this crypto coin then?
Trade safe!