Back in 2013 we made an Epic journey though United States, it all started at JFK Airport (NYC) and ended in Houston, TX, though we had plans to cross the continent and reach the West Coast, it didn't happened - for two simple reasons: 1) We travelled cheap using Megabus company 2) We were sick and tired of such travels after one month.
Let me explain - Megabus is a great alternative for budget travellers - we spent about $200 to reach Houston (we had a nice stops at D.C; Knoxville, TN; Atlanta, GA; New Orleans, LA) from Philadelphia. At that time there were no other options to reach West Coast using Megabus. And yes, after such a long and excusing travel we were really sick and tired and decided leave from Houston, to come back other time and finish our route.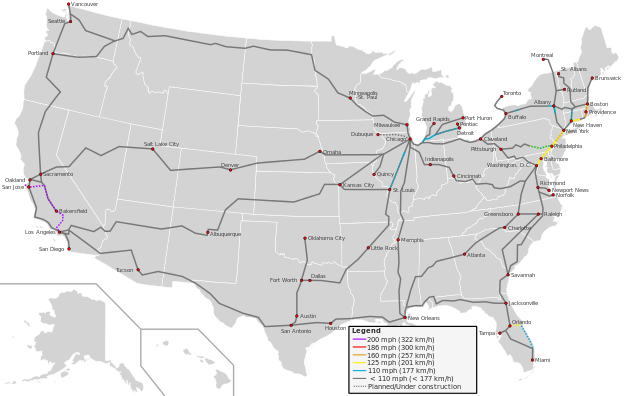 High Speed Rail Network in United States
Now back on the subject - as it turns out (and it's just logical) high speed trains are not popular in United states, instead air planes are very popular. I guess it's one of the differences between EU and US. While European will prefer train over plane, American will chose to fly, even such short distances like Dallas-Houston. Soon (After some 7 years there might come a time and cost effective alternative - High speed rail connecting Dallas - Houston:
The 240-mile project, which could be the first high-speed rail line in America, is expected to get people between the two cities in 90 minutes. If funding is secured and federal approval granted, the train could be running by 2021.
A public meeting about the project in Dallas also unveiled the potential sites for the line's end points. Developer Texas Central Railway identified three in Dallas: around the intersection of Interstates 20 and 45, near the intersection of I-45 and Loop 12, and near the southwest corner of downtown Dallas.
That downtown station would make it easier for Texas Central to achieve a chief goal for the project: tying in to existing public transit at both end points. Dallas City Council members Lee Kleinman and Vonciel Jones Hill lobbied for Union Station to serve as the North Texas terminus. Union Station serves two Dallas Area Rapid Transit light-rail lines, an Amtrak line and the TRE passenger train that connects Dallas and Fort Worth.
"We want the train speeding to Union Station," Hill said to applause at the meeting at the Dallas Infomart. A handful of residents later agreed in a public hearing.
The company is eyeing four general areas for the Houston station. One is downtown; the three others are northwest of the city center.
Texas Central looked at several possible routes and has identified two as the most viable for the project. They are part of a draft environmental impact statement being overseen by the Federal Railroad Administration and the Texas Department of Transportation.
"We've been working hard to try and narrow down the options," said Jerry Smiley, project manager with engineering consultant URS.
Texas Central plans to build the project completely with private funds and has already begun soliciting investors. Although the company has not said how much the project will cost, estimates put the amount at about $10 billion.
The company has the power to use eminent domain for the project. The two routes selected for closer consideration largely follow existing rail lines or utility rights of way, which would minimize the need for land purchases or seizure.
The company estimates it needs only 3,000 acres between Dallas and Houston in addition to existing rights of way to build the 240-mile line.
Government officials estimate that the drive from Dallas to Houston, which now takes about four hours, could take six hours by 2035. They estimate the average speed on I-45 between the two cities will drop from 60 mph to 40 mph over that time.
A major contributor to the additional traffic is the expected population growth in both metropolitan areas.
"We believe that high-speed rail is the biggest game changer in transportation since the federal highway system was established," Hill said.
Used resources: