My next big thing this year - is Facebook, if more precise, Facebook ADS for fan pages. Doing some adverts on Facebook, I started to wonder, does Facebook activity makes an impact on SEO?
I have heard some speculations on this subject, and best answer I could find is - sorta!
Sorta means, that there is no direct impact on SEO, but still some value is passed for SEO, by getting likes and shares.
So I decided to make it clear, at least for myself.
I will make an experiment for one of sites I ran - tourgeorgia.eu
I'm interested to see, does Facebook will make impact on boosted posts.
Right now:
Tbilisi - not in first 25 pages
Tbilisi, Georgia - not in first 10 pages
Tbilisi Travel Guide - 42nd place

As you can see - I'm not linking none of the keywords to my site, just to see, will Facebook work for me.
What I will do?
This is the post I made on Facebook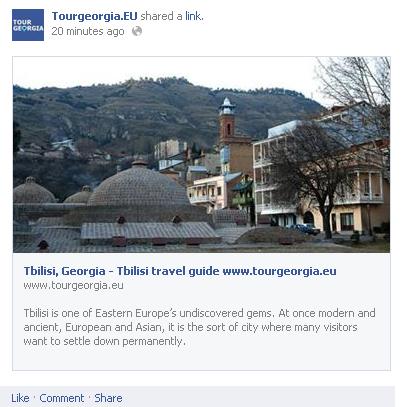 I will spend some little money to boost this post. So we will then have opportunity to see - does it really made some impact or not.
I will post updates of SEO results after one week, two weeks, three weeks and one month.