As you may already know - I'm working as Drupal developer, I'm building drupal powered sites. But not only.
Working with Drupal doesn't mean - I work just core with Drupal - I do a lot other things as well - like SEO, PPC and other marketing activities. I'm in this business some 10 years already, with core Drupal development tasks - some 4 years.
I'm entrepreneur as well- Well I don't have a fancy studio with lot of employees, no, I don't. Being entrepreneur doesn't mean that. I'm working with different kind of business - not only web related tasks. In many cases my business even don't have a webpage. Trust me - there are tons of business out there, without necessity to have a webpage. If yes - great. If not - not a biggie. Trust me.
But lately I'm a lot thinking to create and run a web agency - full time. Maybe someday having fancy studio and a lot employees. Who knows. In web business it would be strange not to have a website, right? So, I decided slowly to put up mine.
Here is the screen of what it could look like.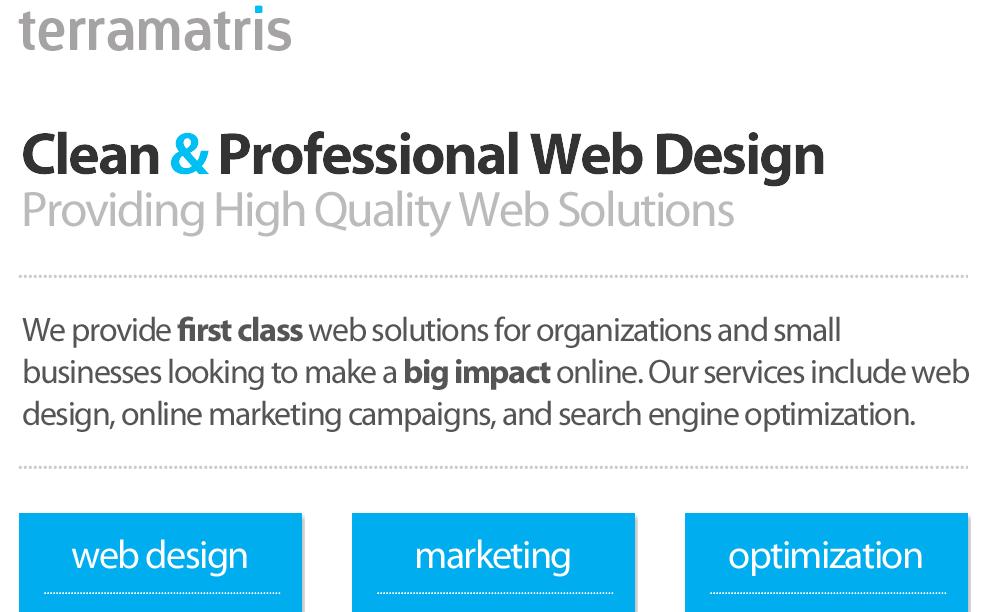 I already know - I will call it Terramatris.
But Idea without realization is nothing, as I prefer to think.
To run an agency, you need a customers right? So it's time to put some money on PPC, to drive customers eager for my services.
In following, days, weeks and months - I'll put some effort to make a rock solid website, will put some money on adverts.
Keep reading my blog - I'will posts some updates about success or failures.