Update: This article covers details how to enable and configure Pathauto module for Drupal 7 site. Fro Drupal 8, please see: How To Setup Pretty URL's For Drupal 8
One of the most common Drupal tasks is to setup - Drupal friendly URL's - friendly both for humans and SEO.
In newer Drupal version's some of Friendly URL's feature has been already enabled out of box - but still - there are times, when we need to configure them.
Default Drupal path is like this - node/21, which is nice - but if you would like to convert node/21 to /my-awesome-title, you will need to download and enable Pathauto and token modules.
Enable both of them, and then head to admin/config/search/path/patterns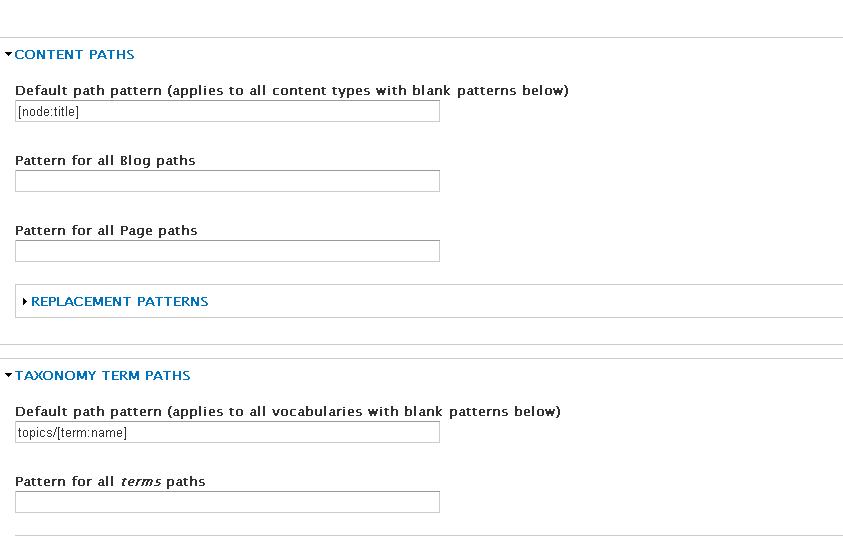 If you are just like me, then in most cases you will are going to be fine with:
[node:title] - for Default path pattern
topics/[term:name] - for default path pattern for all tags
users/[user:name] - for default path pattern for all uses
You can use some options from Replacement Patterns, like to add date to url, or nid
When happy with your path pattern configuration, click Save Configuration, and head to admin/config/search/path/update_bulk, click checkboxes of type you would like to regenerate paths, click update, sit back and relax. Pretty easy, right?