Let's speak about remarketing on Facebook in today's social media posts series. 
I have experimented with Facebook ads a lot, starting from promoting page for getting more page likes, ending boosting posts for getting traffic to my blog. I most cases results have been good. One thing I haven't done actually - remarketing on Facebook.
Although more than two years ago I did implemented a Facebook Conversation pixel for Custom audience. By now I have decided to start fresh - I have a goal for next 29 days (February, 2016) to spend one dollar per day on Facebook ads to promote articles from my blog. And here comes remarketing.
After 29 days I'm  willing to remarket visitors who actually visited my blog (I'll publish an update once this campaign will end) to convert some of them into loyal page fans. 
On the other hand, Google not Facebook generates by now the most traffic for this blog, so I can use remarketing on Facebook, to track those visitors coming from Google and converting into loyal fans for Facebook page as well. So basically, I'm thinking of remarketing on Facebook as one of the best online tools a marketer can have nowadays. Ofcourse it involves spending actually money on Facebook advertisement, in case you are not willing to spend a cent - fine with me, but still I believe you might be wrong. 
Right, lets get started with Custom Audiences on Facebook
Custom Audiences from your website is a powerful way to reach existing customers and those who've shown some interest in your business before.
Make sure you have installed Facebook pixel on your website before proceeding on Custom Audiences.
To create a Custom Audience from your website:
Go to your Audience tab in Ads Manager.
Click Tools and then choose Audiences.
Click Create Audience in the top left.
Select Custom Audience.
Click Website Traffic.
Set your parameters, give your Custom Audience a name and click Create Audience.
In fact you can create as many custom audiences as you wish, I decided to create three custom audiences on Facebook - one for tracking all visits, second for tracking Georgia related visits and third related to minimum/average salaries.
Here is how
Tracking all page visits with Facebook custom audiences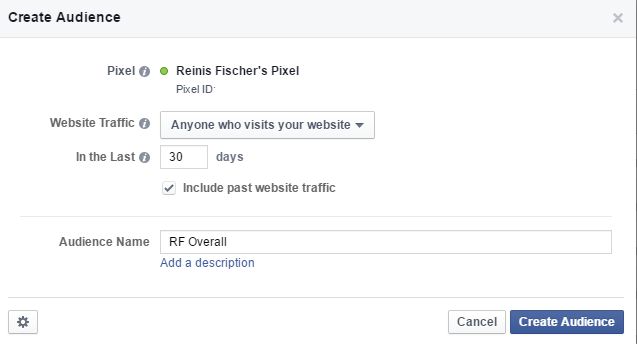 Facebook Custom Audience
For tracking visits to specialized content, I'm using URL parameters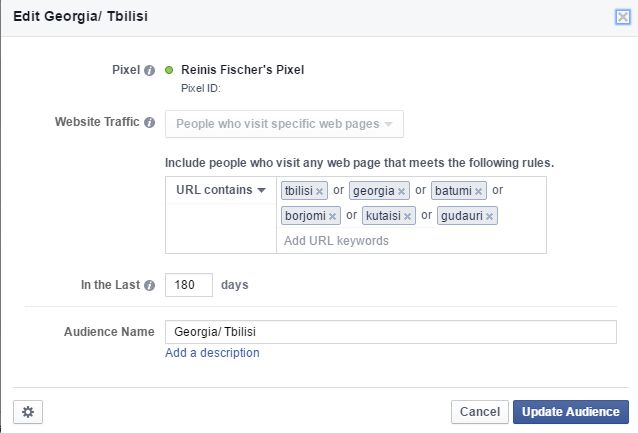 Facebook Custom Audience with URL parameters 
Let the Facebook aggregate data for a while (here is a screenshot of mine Custom audiences after 12 hours)

Facebook ads manager
My site receives more than 40k unique visitors a month, so after first 12 hours I set these custom audiences, first data started to show up. For actually starting advertise on those audiences I believe size 1000  of an audience is minimum, better 2000 or even 5000 size for the custom audience. I guess after 30 days the lists for my custom audiences will be large enough to start doing remarketing and spending precious dollars on them. 
Speaking of you - have you already started to remarket on Facebook? Leave me a comment!