The other day I took the taxi, for a short drive I usually pay 3 GEL, Taxi driver asked me 10GEL, when I pointed him that it's a bad attitude regarding foreigners, he started to yell on me telling that - Foreigners just like to visit Georgia, not to spend a dime, and that he is not satisfied with that. I asked does he thinks Georgia is equal to Germany, Netherlands or Spain?
If it so, why dies he is driving a junk car without safety belts and fails to comply with traffic signs, rude violating the traffic rules?
I gave him 5 Lari and asked he gives me back my change - 2 GEL, he refused. I was too tired to argue and I left taxi driver with those 5 GEL.
But I felt pretty sad. I mean - I can understand desire of locals to have better salaries and better well-being, but does it comes on price of foreigners?
Anyway - today I found that Georgia is listed top 10 of worst well-being countries according to research made of Gallup-Healthways Global Well-Being Index in 2013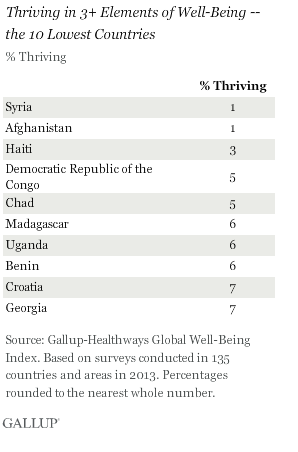 I wouldn't mention the case with taxi driver in start of this post, and probably I wouldn't mention Georgia as one of the lowest well being countries, but since both have happened, it led me to this article.
Personally, I'm not saying Georgia is a poor country. Statistics are saying that.
Global Well-Being Index Largest Recent Global Study of Well-Being
The Global Well-Being Index is an extension of more than six years of research and 2 million interviews in the U.S. through the Gallup-Healthways Well-Being Index. The Global Well-Being Index is a global barometer of individuals' perceptions of their well-being and is the largest recent study of its kind. Data collected in 2013, across 135 countries and areas, and with more than 133,000 interviews, have been compiled into the State of Global Well-Being, a comprehensive report presenting the global demographics of well-being. The Global Well-Being Index is organized into the five elements:
Purpose: liking what you do each day and being motivated to achieve your goals
Social: having supportive relationships and love in your life
Financial: managing your economic life to reduce stress and increase security
Community: liking where you live, feeling safe, and having pride in your community
Physical: having good health and enough energy to get things done daily
In analyzing the results of the index, Gallup classifies responses as "thriving" (well-being that is strong and consistent), "struggling" (well-being that is moderate or inconsistent), or "suffering" (well-being that is low and inconsistent).
Survey Methods
Results for the Gallup-Healthways Global Well-Being Index are based on telephone and face-to-face interviews on the Gallup World Poll, with a random sample of approximately 133,000 adults, aged 15 and older, living in 135 countries and areas in 2013.
For results based on the total sample of national adults, the margin of sampling error is less than ±1 percentage point at the 95% confidence level. For results based on country-level samples, the margin of error ranges from a low of ±2.1 to a high of ±5.3.
All country-level analyses use country weights. Global and regional analysis uses projection weights that account for country size. Minimum sample sizes of N=300 apply.
In addition to sampling error, question wording and practical difficulties in conducting surveys can introduce error or bias into the findings of public opinion polls.
Each element in the Global Well-Being Index contains two questions asked of all respondents:
Purpose
You like what you do every day.
You learn or do something interesting every day.
Social
Someone in your life always encourages you to be healthy.
Your friends and family give you positive energy every day.
Financial
You have enough money to do everything you want to do.
In the last seven days, you have worried about money.
Community
The city or area where you live is a perfect place for you.
In the last 12 months, you have received recognition for helping to improve the city or area where you live.
Physical
In the last seven days, you have felt active and productive every day.
Your physical health is near-perfect.