Long time has passed since I performed some Google Adsense experiment. Starting today and for all upcoming month of March I have decided to perform a simple Google Adsense experiment - to test which colour performs better - pink or blue.
Before creating an actual experiment via Adsense interface - I added a new custom ad unit to my blog. I added it under the content section, at the end of all articles (almost all).
I will be honest, I don't believe I will have a good CTR at such position at all - I believe it could be something less than 0.4% - which I believe is a pretty bad CTR, but hey - that's why it's called an experiment right?
Creating Google Adsense Ad style
Once you are logged in to your Adsense account you are offered a plenty of things and features, one of them is to create a custom ad styles.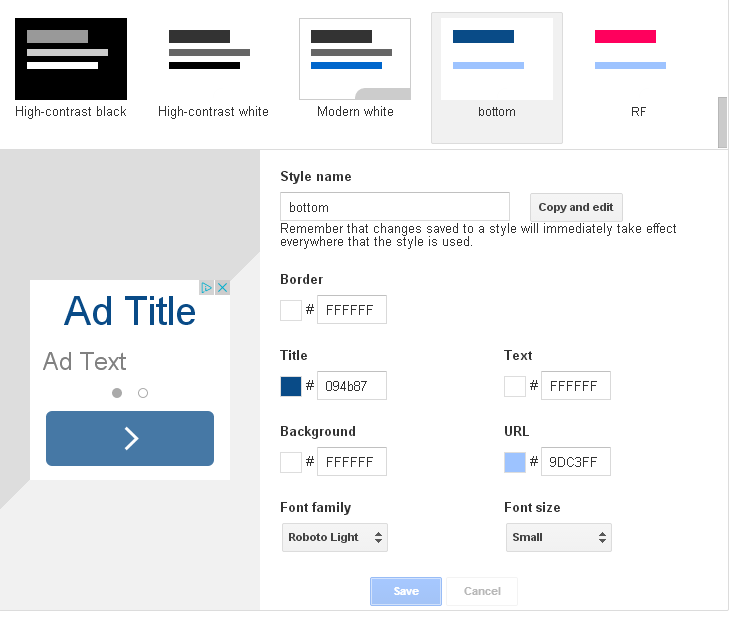 Google Adsense Ad styles
For the sake of my experiment I created two "opposite colour" ad styles - blue and pink
Creating Google Adsense Experiments
Once you have created your ad unit(s) and you have defined your custom ad styles, you can head to experiments section and start creating some variants.
I created simple variation to show either pink or blue ad styles and let Google decide how to split traffic among those styles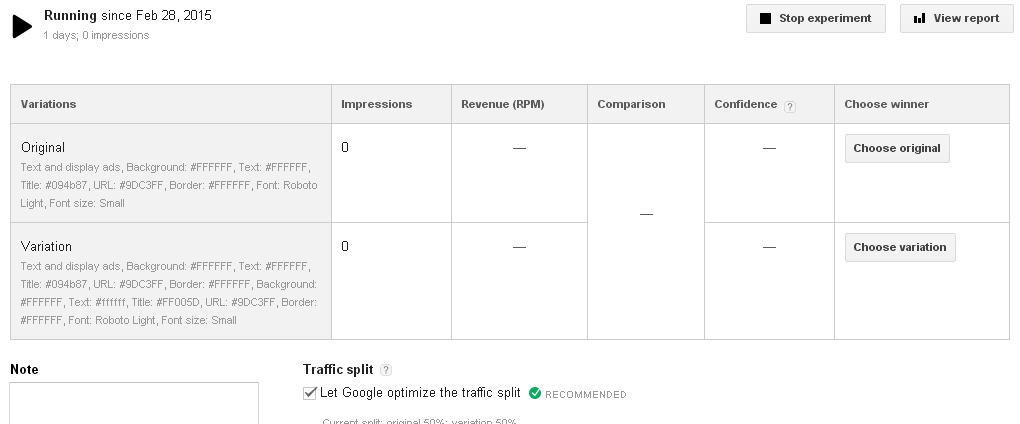 Google Adsense Experiments
Now it's just a mater of technique to add your Adsense code to your website and wait for a couple of weeks to learn which variation works better.
Speaking of me - I will allow this experiment to be on my blog for one month - till the end of March. I believe the blue one will be the winner, but you never know - hey, that's a bright side of such experiments.
On the other hand I'm adding additional Google Adsense ad unit to my blog in hope to give a little boost to my monthly Adsense earnings - as it turns out - I have earned modest 200 Euro in last five and a half years.
About a year ago - I did set up my first Adsense goal to earn $40.00 per month to cover my hosting expenses. Since I have grown my blog traffic from some 300 unique visitors back in February 2014 to more than 10,000 unique visitors this February - I believe it's time to crack this milestone.
About Google Adsense Experiments
Running an experiment allows you to compare one of your ad settings against a variation of that setting to see which performs better. Experiments help you to make informed decisions about how to configure your ad settings, and can help you to increase your earnings. Here are some examples of the types of experiments that you can run:
Compare the performance of text-only ad units to ad units that have both text and display enabled
Analyze the effect of changing the color of ad text on ad performance
Determine the impact on your revenue of using ad serving, sensitive and/or general category blocks