Google has launched new service Google Domains, which as name says will act as a domain registrar. So far this service is available invite-only, but I guess it's not hard to acquire an invitation. At least I sent my invitation, and I'm hoping to recieve it soon.
Google Domains seems will be rivalry for Godaddy domain registrar. And to make this competition more intense Google Domains offers free private registration, which allows us to hide our Name and Address information from WHOIS services. As well one of the mayor benefits should be that DNS will be directly on Google.
Here is the list of Google Domain Features
No additional cost for private registration
When you purchase or transfer a domain name, private registration is almost always an option (some domain endings do not support this feature). If private registration is selected, we cover the cost of keeping your details private (e.g. your name, address and other contact information).
Branded emails
Create up to 100 email aliases with your domain, such as help@your_company.com or sales@your_company.com, and have them forwarded to existing email accounts, like you@gmail.com. This way, your email is a professional reflection of your business.
Easy domain forwarding
Point your domain name to an existing domain and website. This feature can be used to drive users to one location. An example would be forwarding www.example.net to www.example.com.
Customizable sub-domains
Customize your domain with up to 100 sub-domains, such as blog.example.com and shop.example.com. This will allow you to create unique pages within your website.
Fast, secure and reliable
Internet infrastructure with Google Every time you visit a website, your computer performs what's called a "DNS lookup". When you manage a domain with us, you get to use the same DNS servers as Google. This means your domain will connect quickly and reliably to your website. We include 10 million resolutions per year for each domain you register with Google Domains.
Simple domain management tools
A full set of simple-to-use, robust domain management tools are at your disposal: Add and manage resource records: A, AAAA, CNAME, MX, NS, PTR, SOA, SPF, SRV, TXT Use Google Synthetic Records for integration with Google App Engine, subdomain forwarding and Google Apps setup Add and manage name servers Configure TTL Domain locking
Easy integration with top website builders
As soon as you purchase or transfer a domain to Google Domains, you can immediately start creating your website with one of our website builders (additional cost associated). Features include secure and reliable hosting, customizable templates and powerful features like drag & drop creation and mobile site-management.
New domain endings
Over the next few years, hundreds of new domain endings like .guru and .photography will become available. We will be working to provide you with as many options as possible so you can find the most relevant and meaningful names as you get started online.
Support
With Google Domains, you get phone and email support (M-F, 9am to 9pm EST).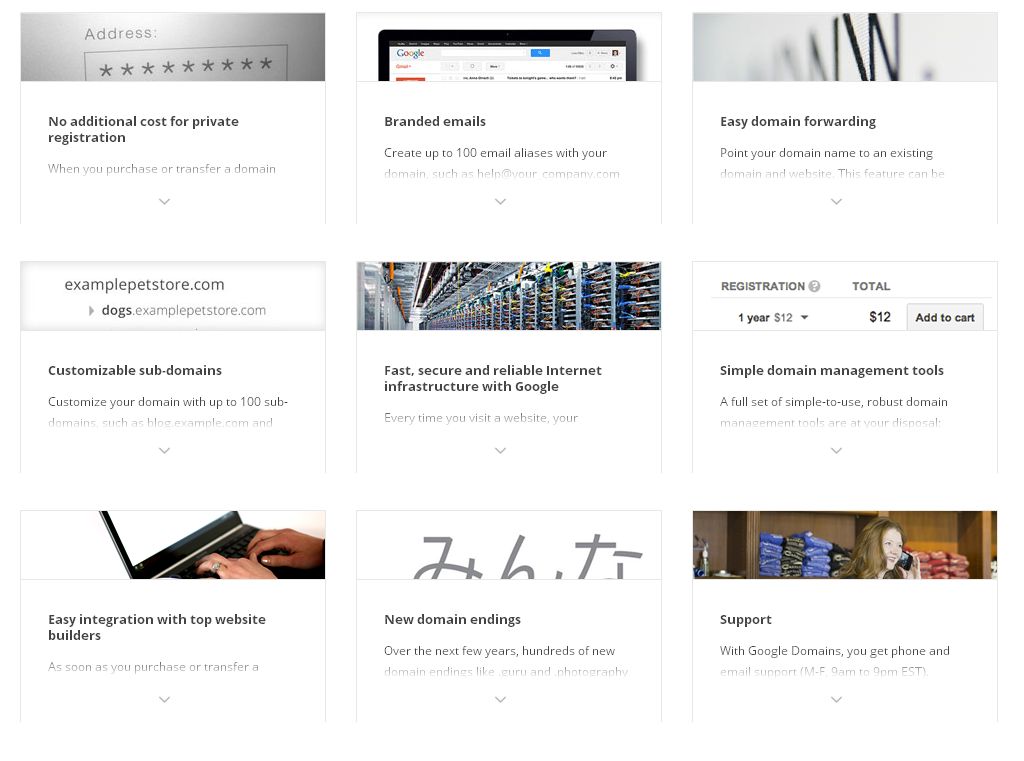 Screenshot from Google Domains
It seems that price for .com domain name registration, renewal will be $12, which might be a bit more expensive than Godaddy offers, but seems pretty OK. Once I will receive invitation I will transfer few of mine domain names to Google Domains for sure.
Seems just logical that Google decided to play on domain registrator market.