Booking.com is one of the worlds largest hotel provider, by t0day at Booking.com you can choose your hotel from more than 500 000 featured on their site. And best of this - you can became a partner for any of these 500 000 hotels - by applying for Booking.com affiliate program.
The Booking.com affiliate partner program has a demonstrated track record of great earning potential. The commission-based model we use with our hotels is the preferred sales model in the hotel industry and guarantees a long-term, mutually beneficial business relationship.
Travel and hotel industry for me always has been tempting - maybe I like to travel and often I stay at hotels (motels, guest houses). My first meeting with Booking.com affiliate program happened about a year ago - that time I was building a hotel list for Georgia - and was searching for some ways to monetize that site.
Booking.com was my first and only choice. (OK, I'm running Google Adsense as well)
How to apply for Booking.com affiliate program
The overall process is pretty simple, it's asked you that you have a travel related website or blog and it's even better if you have some traffic on that site. Visit Booking.com affiliate partner program and start registration process.
Once verified you can start using Booking.com affiliate program. You will get your referral tracking id and you can implement deep links, search boxes or Iframes on your site.
What is revenue module with Booking.com affiliate program
The revenue sharing model on Booking.com is as follows - you get paid for each finalized booking. Payment you receive varies - it starts with 25% commission from what Booking.com is receiving.
We calculate commission according to a commission split model. This model is performance related so the more bookings you make, the higher your commission split. We guarantee payment for all bookings where the guests have actually stayed.

Booking.com commission model
It looks like this - if someone has booked a hotel via your referral link for $100 and Booking.com is receiving 10% commission on that deal, you will receive 25% of what is receiving Booking.com - making $2.5 for that transaction.
The more visitors you will send to Booking.com and more bookings will happen using your referral links, the more you will receive -your commission percentage can increase up to 40% if you will send traffic that makes more than 500 bookings in a month.
What tools I have, when using Booking.com affiliate?
You will be provided with banners, deep links and search boxes. My recommendation is to stick with links and probably one search box (if your website is 100% Travel oriented). Besides of these tools you will be provided with your own dashboard, were you will be able track down - how many visitors you are sending to Booking.com, how many bookings you have and more.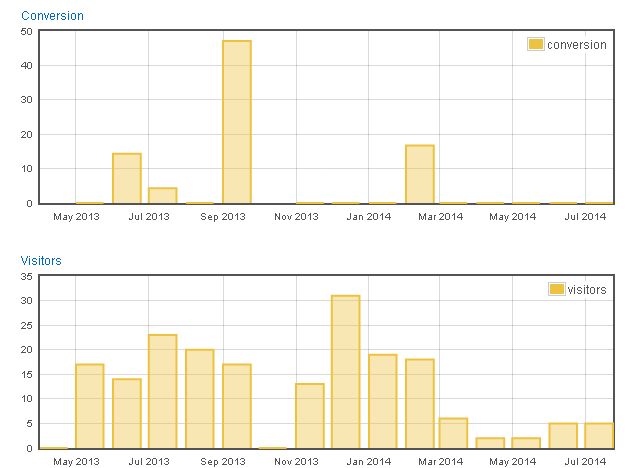 Dashboard at Booking.com affiliate program
My suggestion to you is to pay attention to those numbers, start investigating what is your conversation rates, work on to increase visitor count to Booking.com
Set your goals for each month
In order to get paid on Booking.com you will need to have actual bookings to happen. Bookings can happen just one way - you are sending actual traffic, peoples interested in hotel offers. You will need to have decent traffic to your own website/blog to make significant commissions from Booking.com. Increase traffic to your site(s), provide more valuable content.
If you are new to affiliate marketing or your website has small traffic - start small - set small goals - to send 50 visitors a month to Booking.com and increase those goals each month. Try to get your first 10 bookings, 20 bookings then aim for 50 bookings.
In Conclusion
Booking.com is a great affiliate tool, but to get some decent commission from it - you will need to work hard, to send visitor to it. Increase your website traffic, provide more hotel oriented content and eventually your commision will start to increase.