I have been playing around Google Plus since 2012, or so, I even had created some business pages there. At first I was very excited about Google Plus, but then when I had no return of it, my interest and excitement was gone. How one can get more excitement and return from Google Plus? Simple by having friends/followers there. Because if you are alone there it's pretty sad.
So what's changed, why did I come back for Google Plus?
I knew that Google might somehow take in consideration +1 your articles receives. My first and main motivation was to improve my SERP (Search engine ranking position). And for now it was clear for me - I do need followers to my Google Plus profile.
At first I implemented Google Authorship to my blogs (including this), you can read an article how to implement Google Authorship for Drupal here.
Next big thing was to update my Google Plus profile. I added as I think nice looking profile picture, and colourful background image (header)

My Google Plus header sector
And then I started to follow other accounts, that seemed interesting for me. I totally agree that this is something from Twitter follow/unfollow game, but here in Google Plus it seems more natural. 
I'm not following big brands, I'm following followers of big brands. Why? Big brands won't follow me back, but their followers might follow me back.
In about 2 weeks I got my first 250 Google Plus followers.
Since my main motivation was to improve my SEO and get new visitors to my blog(s), I'm sharing articles on my Google Plus wall.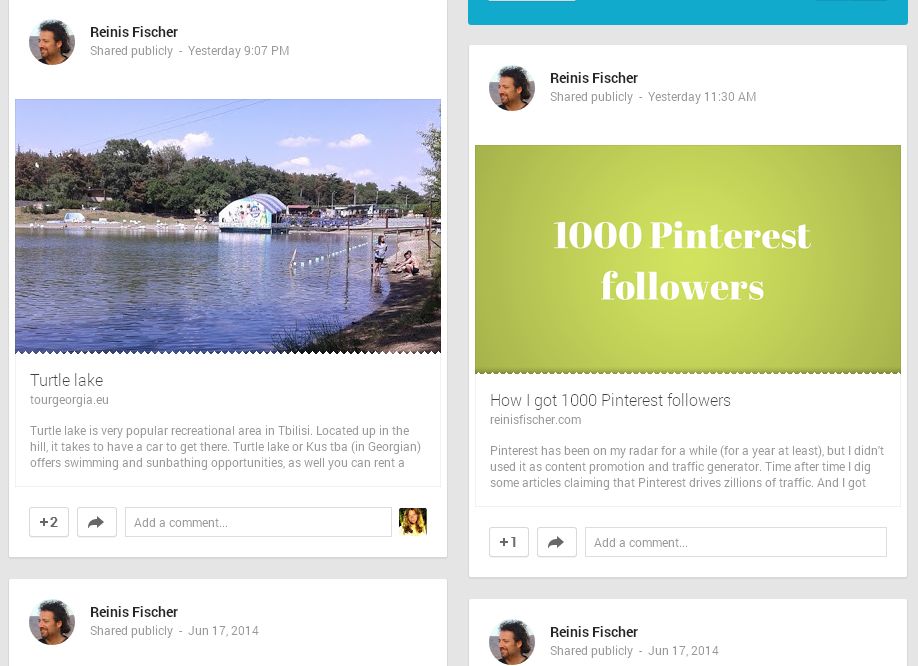 My Google Plus wall with shared articles
Speaking of results, I doubt that 2 weeks is enough time to speak about real results, bus as for now from Google Plus I have got some 8-10 users

Referrals from Google Plus page
Of-course that's is really modest traffic to be proud of, but as I said, I doubt that 2 weeks of data aggregation is enough time.
Speaking of Google Plus impact on SEO:
I'm not too sure, but I guess I should wait for some 3 month period to get better insights.
What is your experience with Google Plus?