Few days ago my Twitter follower count crossed 5000 milestone. Today I already have 5788 followers on Twitter. According to Twitter counter my account ranks # 1,061,525 worldwide. It's just a little bit and I will break in TOP million list.
Actually I got most of the followers in just last 30 days. It took me 32 days to raise my followers from 50 to 5000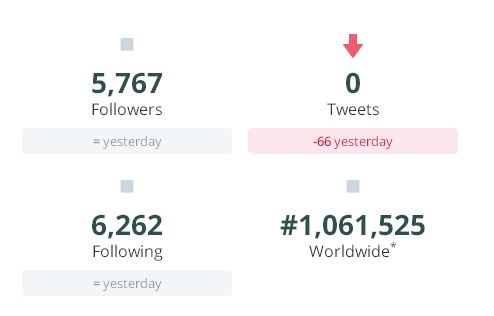 Twittercounter showing my followers count
So how did I break that magic 5000 follower milestone?
I followed many other Twitter accounts, and they started following me back
I published a lot of tweets
I used #hashtags
I engaged in conversations with my Twitter followers
If honest I'm using Twitter to promote content on my blog, so I decided to measure what's the return from Twitter. To get Twitter visitors to your blog you need to publish tweets on Twitter. I decided to test Hootsuite application to schedule my tweets (Hootsuit PRO account allows to import CSV file with your tweets and schedule them). I created a simple export function on my blog - to export 150 blog posts, I added #hashtags URL and time when to publish tweets. And then - imported as CSV file on Hootsuit.
I must admit - this was pretty lame approach - I scheduled 150 tweets for 72 hours, without even one repeated tweet - each tweet was unique. The time frame between tweets - 25 minutes for 72 hours.
I used Google Analytics to track - how many Twitter users come back to my blog.

Twitter visitors to my blog
In 3 and a half days - tweeting non-stop with 25 minutes interval - I got just 70 sessions and 51 New users.  Making my twitter CTR to look just a little bit above 1% - 1.02% if precise.
Since this was not my first attempt to measure CTR from Twitter, and in previous tests - I got even 2% CTR, I'm not satisfied with 1% CTR results from twitter. But again - I think I did a huge mistake tweeting just random, not very well optimized tweets.
If we break things to daily CTR, things looks even worse:
Day 1 (Wednesday): 18 visits; 0.36% CTR
Day 2 (Thursday): 28 visits; 0.56% CTR
Day 3 (Friday): 18 visits 0.36% CTR
Day 4: (Saturday): 6 visits ; 0.12% CTR
Lessons learned
Although I did reach a pretty milestone - 5000 followers on Twitter, it didn't returned very good results in terms of referral traffic from Twitter. In future I will be more wise choosing tweets to post on Twitter, in order to keep my CTR above 1% (daily)
I have decided for a one week - next 7 days to avoid using Twitter to aggressively tweet (just those tweets that are already synced using twitterfeed), to see does my organic search traffic climbs up - because for a last 30 days I have been using Twitter more or less aggressively to generate traffic from that - and I do believe organic search from Google goes hand to hand with signals from social media - in this case I'm talking, not to rank higher, but to see will Google notices that I have less traffic from Twitter and will Google eventually align my traffic to keep it even.
In conclusion:
Twitter is a great digital marketing tool - you just need to be wise using it. One of the essences to benefit from Twitter is to have followers on it. And if I can get 1% CTR return of Twitter traffic - you too can - 1% as I do believe is pretty modest result. Optimizing your tweets, planing your online content, you could see 2%-3%-4% and more % CTR easily.