Good afternoon from Tbilisi, today is May 18, 2022, and Bitcoin is trading at slightly under $30,000. 
While I'm waiting for Bitcoin to bounce back and above the levels of $40,000. I decided to check different chart setups to get a better understanding of where we might be heading to.
As of writing these lines I was holding 4 long positions with leverage on Bitcoin with strike prices around $32,500, $37,000, and $42,000.
I found very useful YouTube video, from Satoshi Stacker - THIS INDICATOR HAS PREDICTED EVERY BITCOIN BOTTOM [Mindblowing...] where the author talks about 1 week chart and 3 indicators.
I decided to check how does it apply to my charts and try to predict the possible Bitcoin bottom
Indicators:
100 EMA
100 Moving average
200 Moving average
Time frame: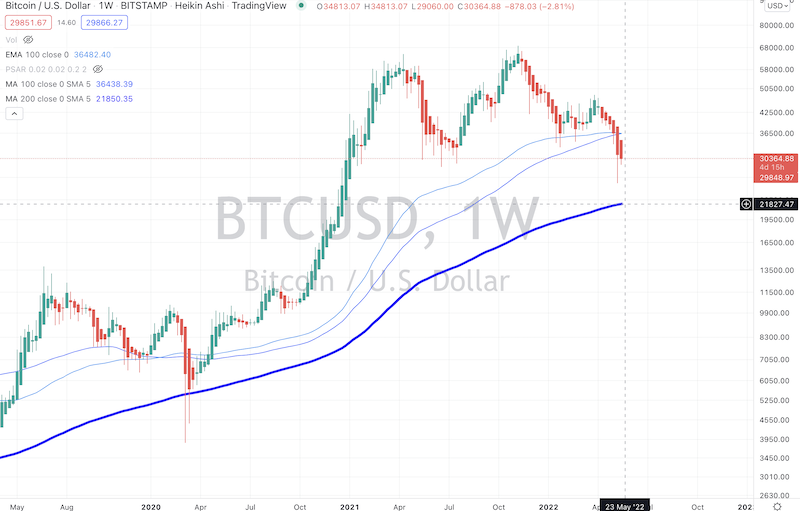 According to the author of the video, the Bitcoin price bottom is always at the 200-week moving average. Before getting there, a 100 EMA and 100 MA crossover should happen, after which a sharp drop follows.
When looking at the current chart (May 18, 2022) we can see the crossover has happened already and the Bitcoin bottom price points to $22,000 on the 200 moving average line (blue line). Spikes under 200 moving average are possible, but as long as you are not trading bitcoin futures with leverage, shouldn't worry too much - could be a great point for accumulating more bitcoin.
My current estimated liquidation price on Deribit sits at $23,634, which is just slightly above the possible bitcoin bottom. I should deposit more funds to keep my positions safe. 
Before actually depositing new funds to my trading platform I'll wait for Bitcoin to drop under $26,000. As there is always the possibility we are not going actually to reach for the bottom but could go higher instead.
Interested in trading Bitcoin Futures, join our Facebook group