Today I found an interesting article showing that Google prefers longer articles than shorter. The article I'm speaking right now is called How to write 2000 word a day.
Since I'm using blog contest Can you blog 365 days in row, to boost my online presence and rank high on Google (and other search engines) I started to wonder how many words contains my posts in average, and sad fact is - they contains about 250-400 words.
I did a quick word count to my blog posts for all blog posts this month, and sad true is that in average my posts are 216 words long.
I guess 250 words is a minimum to rank at all. And if honest it's pretty hard for me sometimes to write even those 250 (216) words. How the hell I could write 2000 and more words in a day?
I need some motivation
But were to get some motivation? Maybe the best motivation is traffic you receive to your blog? Well let's take a look, in previous month (May), I got just a little more than 1000 users a month. 1000 users in a month? Sounds pathetic, right?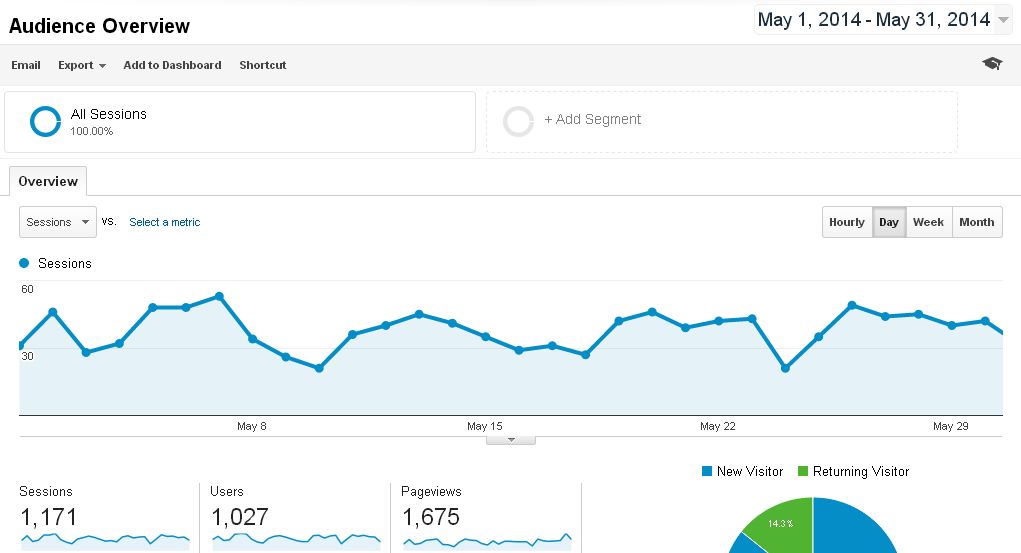 My blog visitor statistics May 2014
So if I will write 2000 words a day, I will receive just 1000 visitors a month? Well, if I really will write 2000 words a day, I guess I will receive way more than 1000 users, but right now there is no motivation, because results kinda suck.
So it's the vicious circle, less words, less rankings. More words - more time to prepare good quality articles. I just don;t have time to write 2000 words of any content at all, not speaking of quality content.
The only motivation I'm seeing right now - is if I will write, rankings will go up. But they won't go up in overnight. Rankings need time, but I'm so inpatient.
So taking in account that all we can do is to hope, there is no place for motivation but blind trust, that it will work, and we need to start writing 2000 words a day of quality content.
Were to get time
Time is money, and you know it better than me. So were we can get time to write an article each day 2000 words and more? I have no idea. Do you have some ideas. Should we read some book of Time Management. Like if we want to write an quality article with 2000 and more words a day, should we write it in parts? Let's spend 15 minutes in the morning writing first 500 words, then lets spend another 15 minutes writting at lunch break, then again before leaving work and finally in the evening before bedtime. Pretty dumb right?
OK, if we are not working full time job, we have a plenty of time to produce more than 2000 words in a day. But if we don't have a time? I mean 1 hour in a day for article writing...
It sucks
What to do, what to do
One of the options I'm considering right now, is not to write 2000 words or more in a single day, but to write longer articles once in a week. So there will be 4 great and long articles in a month.
What to write about
It depends. It depends what you are writing already, it depends what are you willing to write about, and it depends what are you passionate about.
Please remind me, why the hell I need to write 2000 words a day?
You don't. I must. But if you are curious why should I need to write 2000 words or more long articles in a day, I will try to explain it better. According to 2 years old research:
The average content length for a web page that ranks in the top 10 results for any keyword on Google has at least 2,000 words. The higher up you go on the search listings page, the more content each web page has.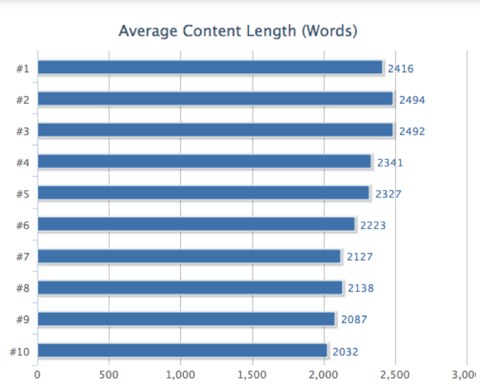 Graph from quicksprout.com
As we can see from graph above, in Google SERP first TOP 3 places takes articles which length is more than 2400 words. So there is no guarantee we will rank in SERP with exactly 2000 words, we need more than that. Yes, I know it's hard, but that's the reality according to source.
So in order to get our articles to SERP TOP 10 we must make sure they are 2000 words or more long.
How to write quality content?
Remember back in the school we were taught - introduction, discussion, summary. So this applies for 2000 words long articles as well.
Lets start with introduction: At start of this article I should write some 250 words what this article will be about, like this:
In this article I will explain how to write 2000 and more words in a day in order to rank better in Search Engines. Ranking well on search engines, means more traffic to your blog. ..
Now lets dive in discussion, we should discuss about our article in some 1500 words, in discussion we can ad references, link to our blog posts, add some interesting images, add our opinion, add others opinion e.t.c.
When our discussion is close to 1500 words, we must add a summary of our article to allow our reader to summarize what he/she has learned from this article.
What I can learn from this?
Well, it's for sure I will not produce quality articles with 2000 and more words each day during my Can you blog 365 days in a row contest. But one I know for sure - I will increase my average word count per article from 216 to 400 for next 30 days. I mean - I know 400 is not 2000, it's just 1/5 of 2000 words, but that's 184 words more I have for now.
If I will keep up for next 30 days writing a little (almost a half) longer post, I guess my rankings will go up a little bit as well. I mean - you cannot have all at the same. Step by step increasing your daily word count will pay off in long term. Who knows - maybe if I will succeed next 30 days writing 400 words long articles, maybe after 30 days I will increase it to 500 or even 600 words a day?
Thank's for reading this!