I decided it's time for me to drop any further hotel affiliate marketing programs, due to they are way too competitive.
I have been in hotel affiliate marketing programs already by more than one year - and haven't made more than some twenty bucks. Either I'm not smart enough, either it's too competitive. I would say like this - it's mashup of both. By knowing I haven't made much progress for more than one year - I should step back right now, instead of keeping to push.
I agree - maybe I should push harder, you are right. Never give up. I just need a break.
The second thing - I'm starting to get panic of further Google Panda's and Penguin's updates. I mean for last 2 months I have done hotel promotion through my blog exclusively - I'm aware of getting flagged as spam blogger.
I'm trying to be a responsible blogger, by avoiding any black hat schemes - unfortunately for me - as I see myself - there are days I might look too spamy.
So - no more hotel affiliate on this blog for next 3 months at least.
In case I will decide to try fresh with hotels - I should develop a better strategy.
So far with this blog - I have done affiliate marketing for hotels for last 2 months, and results sucks - it' about ten dollars in revenue. As well I'm not sure I'm using the right affiliate programs.
Here are some of my observations
Booking.com doesn't offer cookies - any bookings is tracked session only. This means you don't have even 24 hours for visitor to decide to book or not. In case visitor closes Booking.com window, but latter that day goes back and makes reservation, you won't get credited. This is really one of the reasons I look at Booking.com with suspicious.
It's just way to competitive - I have tried different combinations - popular places, unpopular places - the SERP results are loaded with hotel ads, so your articles, if even will get on 1st page wont be noticed: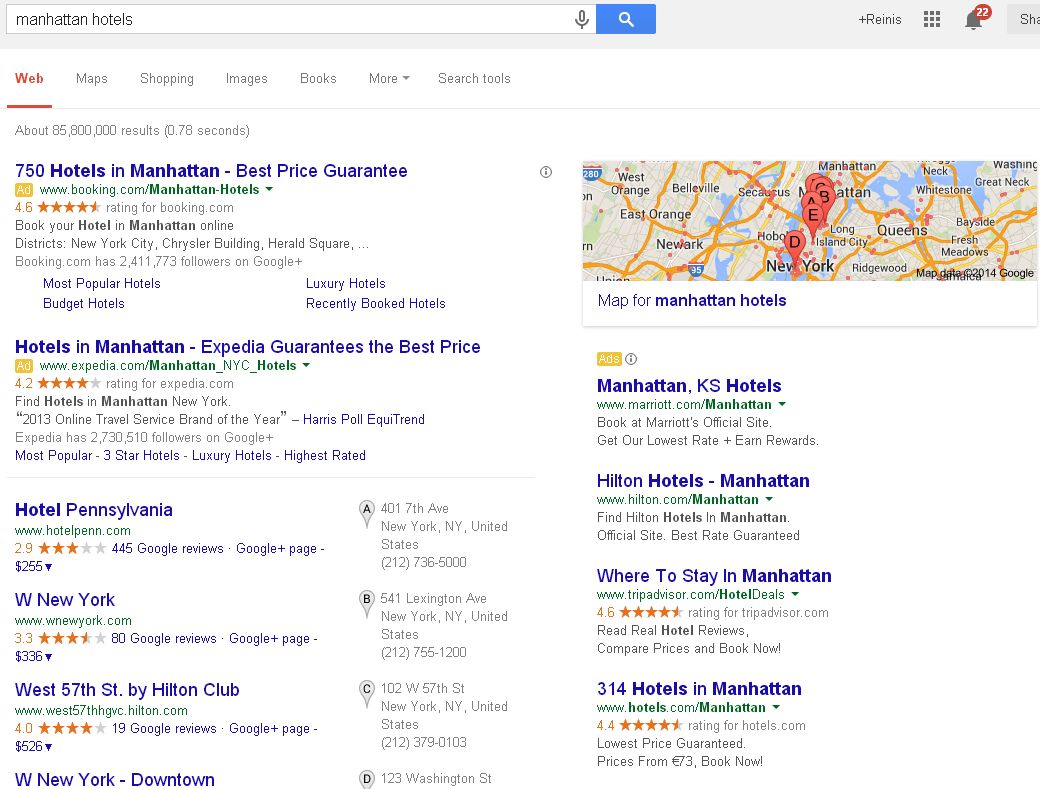 Google Search Query for "Manhattan hotels"
Go try yourself on Google with any city name + hotel combination
Though I believe, it's an option to use long tail keywords here with combination of some not very popular places.
I guess my decision for dropping hotel affiliate program should be permanent, but you never know. The first time I will consider to work again on hotel promotions, might be when (if) I double my traffic to my blog)
Instead of chasing for commission on room reservations - I might to choose to promote some products for Hotel Industry - one of the options I'm considering right now - is some web systems for hotels, like hotel web design, reservation systems e.t.c.
Anyway - those last two month's of hotel affiliate gave me a valuable experience, I would perhaps never learn. Here are few posts you would like to read, if you are a newby in hotel affiliate, and figuring out what to do next:
What are your thoughts on hotel affiliate marketing - leave me a comment, I would love to hear your opinion!