On February 3, 2023, I bought 16 shares of TLRY stock (NASDAQ: TLRY), paying $3.34 per share for my stock portfolio.
I've been selling call-and-put options with TLRY since 2020. I remember days TLRY traded around $20 per share. I wouldn't mind seeing this stock trading there again.
Also, TLRY is the first buy for my newly opened Interactive Brokers account, which I decided to build up gradually by investing and selling call options.
TLRY -> SPCE -> DB -> INTC -> AAPL Covered call writing
I'm now holding 16 shares of TLRY in my stock portfolio
Using dollar-cost averaging our average cost per TLRY share is $3.34
84 shares to go once I will be able to start selling covered calls and generate extra income from TLRY stock. I'm looking to get there by April / May 2023.
If I would have 100 shares of TLRY today, I could sell March 10, 2023, covered call (35 days to expiry) with a strike price of $3.5, to get a $0.21 premium. In case my shares would get called away on expiry I would realize $37 in income in about 35 days, that's a potential return of 11.07%
If my call option would expire worthlessly, I would pocket $21 or about 6.26% potential return in about 35 days, and start over by writing additional call options.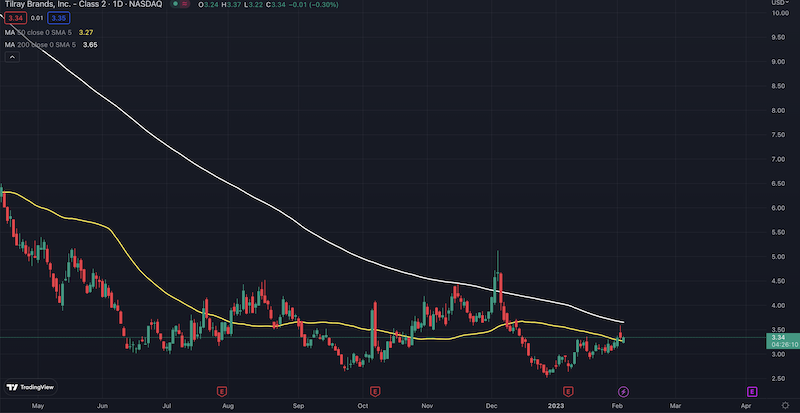 I see a potential run to $5 per share in case the resistance for 200 MA is breaken. Not excluding a potential bull run in 2023.
TLRY stock forecast
The 14 analysts offering 12-month price forecasts for Tilray Brands Inc have a median target of 3.40, with a high estimate of 9.00 and a low estimate of 2.80. The median estimate represents a +1.64% increase from the last price of 3.35.
About TLRY
Tilray Brands, Inc. is an American pharmaceutical, cannabis-lifestyle and consumer packaged goods company, incorporated in the United States, headquartered in New York City. Tilray also has operations in Canada, Australia, New Zealand, and Latin America, with growing facilities in Germany and Portugal
Interested to learn more about my covered call trades? Sign up for the newsletter at coveredcalls.reinisfischer.com