On January 13, 2023, we bought an additional 2 shares of Amazon (NASDAQ: AMZN) stock, paying $96.12 per share for our Partnership Fund.
We are now holding 15 shares of AMZN in our Partnership Fund portfolio
Using dollar-cost averaging our average cost per AMZN share is $105.94
85 shares to go once we will be able to start selling covered calls and generate extra income from AMZN stock. We are looking to get there by April / May 2023 using a margin account.
If we had 100 shares of AMZN today, we could sell February 17, 2023, covered call (35 days to expiry) with a strike price of $120, to get a $0.49 premium. In case our shares would get called away on expiry we would realize $1,455 in income in about 35 days, that's a potential return of 13.73%
If our options would expire worthlessly, we would pocket $49 or about 0.046% potential return in about 35 days, and start over by writing additional call options.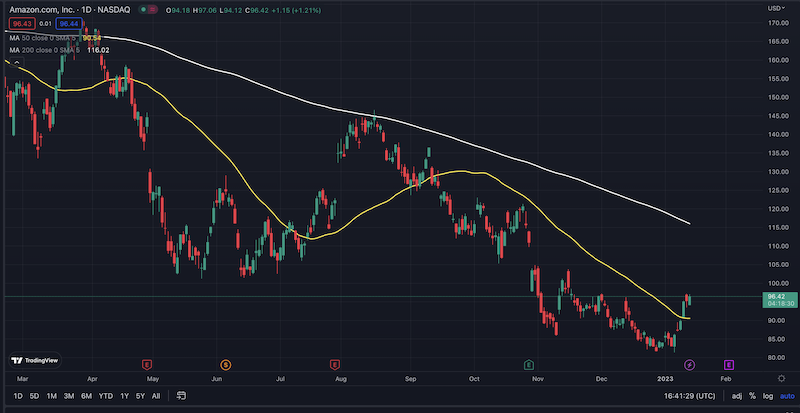 At the time of writing this article - Amazon stock has finally broken above its 50-day moving average - indicating a possible safe trade range between 90 and 115
Amazon stock forecast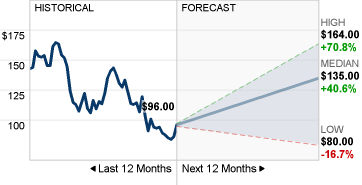 The 46 analysts offering 12-month price forecasts for Amazon.com Inc have a median target of 135.00, with a high estimate of 164.00 and a low estimate of 80.00. The median estimate represents a +40.75% increase from the last price of 95.92.
About Amazon inc
Amazon.com, Inc. is an American multinational technology company that focuses on e-commerce, cloud computing, digital streaming, and artificial intelligence. It has been referred to as "one of the most influential economic and cultural forces in the world", and is one of the world's most valuable brands