Welcome to the #2 bitcoin futures trading report, covering my trades in the month of May 2022 on the Deribit platform. After 36 trades I was able to book 0.0005621150503 BTC profit, about $17.73 if exchanged for the USD value.
Disclosure: This article contains affiliate links to the deribit.com options trading website, by clicking on links on this page and by making an investment on the derbit.com website, I might earn affiliate income at no cost to you.
Last May was disastrous for most Bitcoin holders, the value dropped from about $40,000 down to $25,000 at one point.  As long as you were not shorting Bitcoin last month, the pain was huge. The pain was even much higher for leveraged traders. After the Bitcoin crash at the start of May, to avoid liquidity, I deposited an additional 0.01093 BTC to the platform (About $344)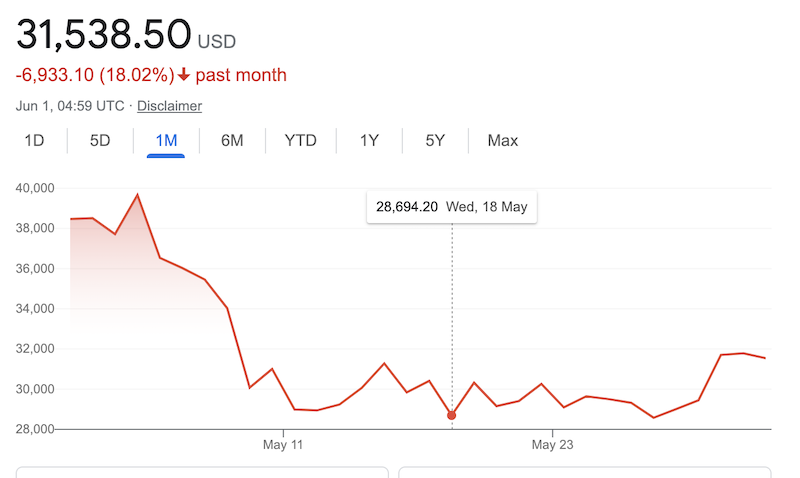 During the month of April Bitcoin's price dropped by more than 18%. I stopped trading for some 10 days completely as I was already holding 4 long positions and I was concerned from further market drops.
Trading futures with 50x leverage might be very dangerous, to adjust the risks - trade size matters.
My current estimated liquidation price: is $23,493 and the current initial margin stands at 5.56%.
As long as Bitcoin doesn't fall under $24,000 I'm safe.
For now, I'm holding four long trades open (as of June 1st, 2022).  Entered them with $200 capital:
$40,336.50 (entered April 26)

$39,801.50 (May 4)

$36,015.00 (May 7)

$32,420.00 (May 10)
With Bitcoin hovering around 31-32K I feel I have a great chance of closing the May 10th trade with a profit. Also looking quite optimistic about the May 7th trade. 
To exit all trades and book the profit I need Bitcoin to take back that $40,000. 
For now, I'm trading with $200 per trade, in case I will be able to close one long position I will increase my position to $300
No idea where the month of June will take me, but I would be happy to close at least one open position and book some 5% yield this month.
The total investment since April 10, 2022: 0.01171006 BTC. On which I was able to take 0.002171550414 BTC profit. 
About 18.54% profit in 52 days.
Net liquidity: 0.0091 BTC ($287)
Last month I started a paid bitcoin newsletter, talking about technical analysis, bitcoin futures trading, and more.