After reviewing minimum and average salaries in member states of European Union, I decided to take a look on US average wages -  and compare all 50 American States + D.C.
It was easier to come up with idea than actually get data, as it turns out in US they prefer more count household income rather per-capita. So the closest data I found worth of comparing - median household income. Which, basically means following - Median income is the amount that divides the income distribution into two equal groups, half having income above that amount, and half having income below that amount. Mean income (average) is the amount obtained by dividing the total aggregate income of a group by the number of units in that group.
According to U.S Census Bureau for 2014 median household income in United States was $53,657
U.S Household Income map by State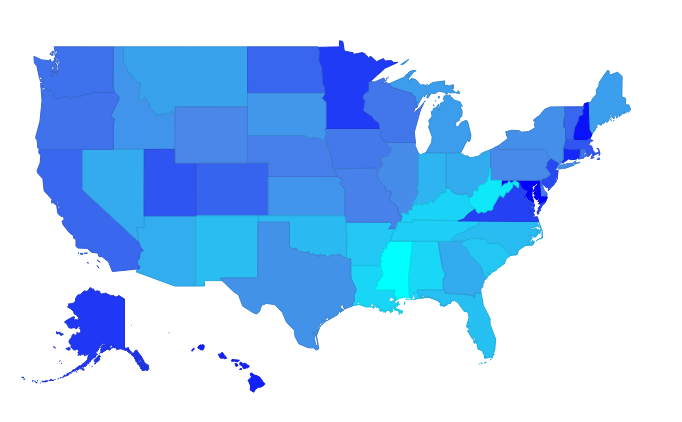 Median Household Income in US by State in 2014
Here are TOP 10 earner States in America - Maryland (76,165), New Hampshire (73,397), Hawaii (71,223), Connecticut (70,161), D.C. (68,227), Alaska (67,629), Minnesota (67,224), Virginia (66,155), New Jersey (65,243), Utah (63,383)
And here are the least earning States - Mississippi (35,521), West Virginia (39,552), Alabama (42,278), Louisiana (42,406), Kentucky (42,786), Tennessee (43,716), Arkansas (44,992), South Carolina (44,929), Florida (46,140), New Mexico (46,686)
It's interesting to observe that New York State (#27) home to the New York City, Illinois (#26) with Chicago and California (#15) with all those top notch IT companies based here are not in TOP 10. Also seeing State of Florida placed 43rd while being fourth largest economy in the United States, might mean just one - wages in tourism industry are low.
Median Household Income 2014
| | | |
| --- | --- | --- |
| # | State | Income 2014 |
| 1 | Maryland | 76,165 |
| 2 | New Hampshire | 73,397 |
| 3 | Hawaii | 71,223 |
| 4 | Connecticut | 70,161 |
| 5 | D.C. | 68,277 |
| 6 | Alaska | 67,629 |
| 7 | Minnesota | 67,244 |
| 8 | Virginia | 66,155 |
| 9 | New Jersey | 65,243 |
| 10 | Utah | 63,383 |
| 11 | Massachusetts | 63,151 |
| 12 | Colorado | 60,940 |
| 13 | North Dakota | 60,730 |
| 14 | Vermont | 60,708 |
| 15 | California | 60,487 |
| 16 | Washington | 59,068 |
| 17 | Oregon | 58,875 |
| 18 | Rhode Island | 58,633 |
| 19 | Wisconsin | 58,080 |
| 20 | Iowa | 57,810 |
| 21 | Delaware | 57,522 |
| 22 | Nebraska | 56,870 |
| 23 | Missouri | 56,630 |
| 24 | Wyoming | 55,690 |
| 25 | Pennsylvania | 55,173 |
| 26 | Illinois | 54,916 |
| 27 | New York | 54,310 |
| 28 | Texas | 53,875 |
| 29 | Kansas | 53,444 |
| 30 | Idaho | 53,438 |
| 31 | South Dakota | 53,053 |
| 32 | Michigan | 52,005 |
| 33 | Maine | 51,710 |
| 34 | Montana | 51,102 |
| 35 | Nevada | 49,875 |
| 36 | Ohio | 49,644 |
| 37 | Georgia | 49,555 |
| 38 | Arizona | 49,254 |
| 39 | Indiana | 48,060 |
| 40 | Oklahoma | 47,199 |
| 41 | North Carolina | 46,784 |
| 42 | New Mexico | 46,686 |
| 43 | Florida | 46,140 |
| 44 | South Carolina | 44,929 |
| 45 | Arkansas | 44,922 |
| 46 | Tennessee | 43,716 |
| 47 | Kentucky | 42,786 |
| 48 | Louisiana | 42,406 |
| 49 | Alabama | 42,278 |
| 50 | West Virginia | 39,552 |
| 51 | Mississippi | 35,521 |
The gap between top earning State (Maryland) and least earning State (Mississippi) is huge, making difference in year by $40,664 on average per household. 
There were for States in 2014, where median household income was above $70,000, while in 17 States median household income didn't reached $50,000
The Bottom Line
It's not only European Union divided by richer and poorer member states, the same applies for United States. Well, the only difference here - lowest paid State in U.S earns about 7 times more than lowest average salary in European Union (Bulgaria). While top earners from Maryland earns about twice as highest earning member state of European Union (Luxembourg)