Yesterday I shared my joy - how Tourgeorgia.EU ranks 664 in Georgia. Today to my surprise I found that my personal blog in Georgia ranks 823 and Globally 2.017.516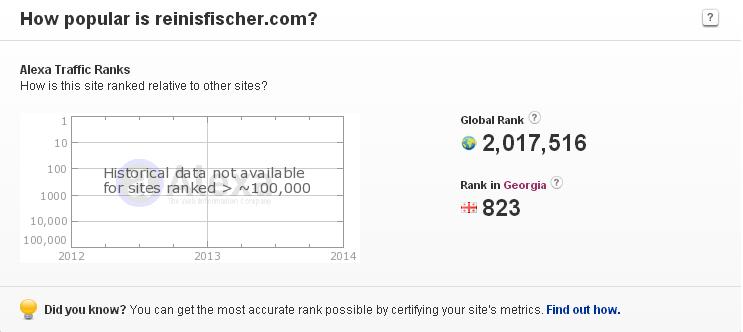 Well, taking in consideration fact that last month my blog made modest 74 unique visitors, it hard to believe, that it's enough to rank high in Alexa rank. I guess the fault could be in that I have myself installed Alexa toolbar, if so - it's way to easy to manipulate with Alexa results.
P.S. Tourgeorgia.EU today ranks already 575 in Georgia and 1.470.081 globally - maybe till end of month, we gonna make Top 500 Georgia list? :)
About Alexa:
The Global Leader in Analytics
Alexa is the leading provider of free, global web metrics. Search Alexa to discover the most successful sites on the web by keyword, category, or country. Use our analytics for competitive analysis, benchmarking, market research, or business development.