Two days ago (January 2014) my blog experienced first serious traffic spike, traffic went up from 5 daily visitors to 1114. Pretty impressive growth for a starter blog (er). So what happened?
One of my first blog posts was Ukraine vs Poland GDP 1990-2012, I made it actually on first days of my blogger career, this post was published on 10.10.2013. More than 3 months passed, before post get greater exposure. In previous months I got few Google Searches for that post, but on January 24th I noticed a huge traffic spike: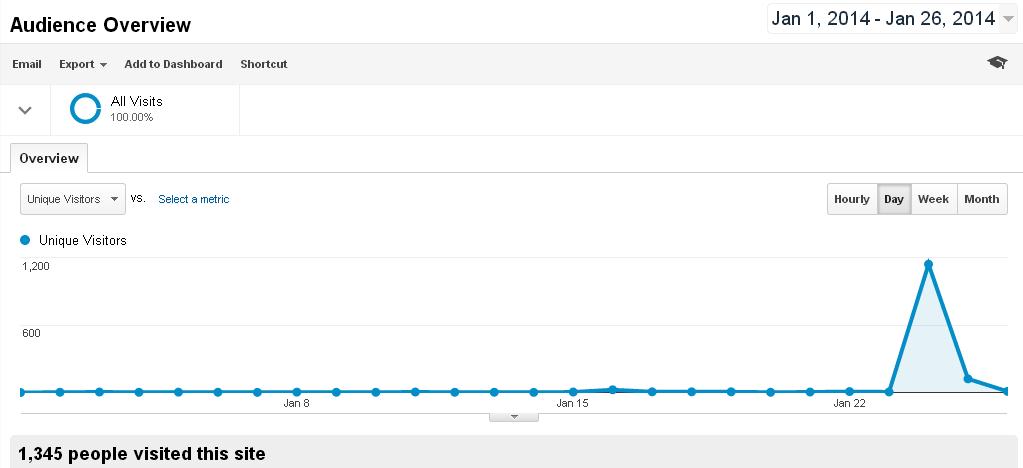 Overnight I got 10 times more visitors I had in previous month total.
Traffic source was just one comment from reddit 
So far was the good news. 
The bad news - or lessons learned:
Some time ago I created Google AdSense ad units for my blog. After seeing a huge traffic increase, I went to check my AdSense stats. To my surprise just 2 AdSense links were clicked. Total disaster.
What about social share buttons - again wrong - I have removed them from site. So nobody, had possibility to share this link, and get even greater exposure.
So it's time to implement Google AdSense the right way, add social share buttons, and wait for another traffic spike. 
Update: Read how I got 10,000 page views in a day two years later.