Today I spent a pleasant afternoon in one of the many Tbilisi parks on Eristavi street. I noticed there lives (or at least walks) a lot of American people. Anyway I had a lot of free time and I decided to buy some newspaper in English. I walked to newspaper stands but there were only newspapers and magazines in Georgian. I asked - OK - Do you have some Newspapers in Russian at least. One of the sales persons offered me just a Scan-words (Crossword).
I continued my findings for some newspapers in English or Russian, and finally I found a stand were was newspapers in Russian (Argumenti i Fakti, Komsomolskaja pravda and Soversheno Sekretno). I did't now which to choose and I asked women who was selling magazines, which sells better, and she recommended me Soversheno Sekretno. I took my newspapper and went back to park and started to read.
One of the articles I red was about Frozen Conflict in Nagarno Karabakh.
Newspapers like Soversheno Sekretno I have never evaluated very highly, mainly because of they are too subjective. But I must admit that opinions published on this newspaper coincided with my own thoughts.
So what about Nagarno Karabakh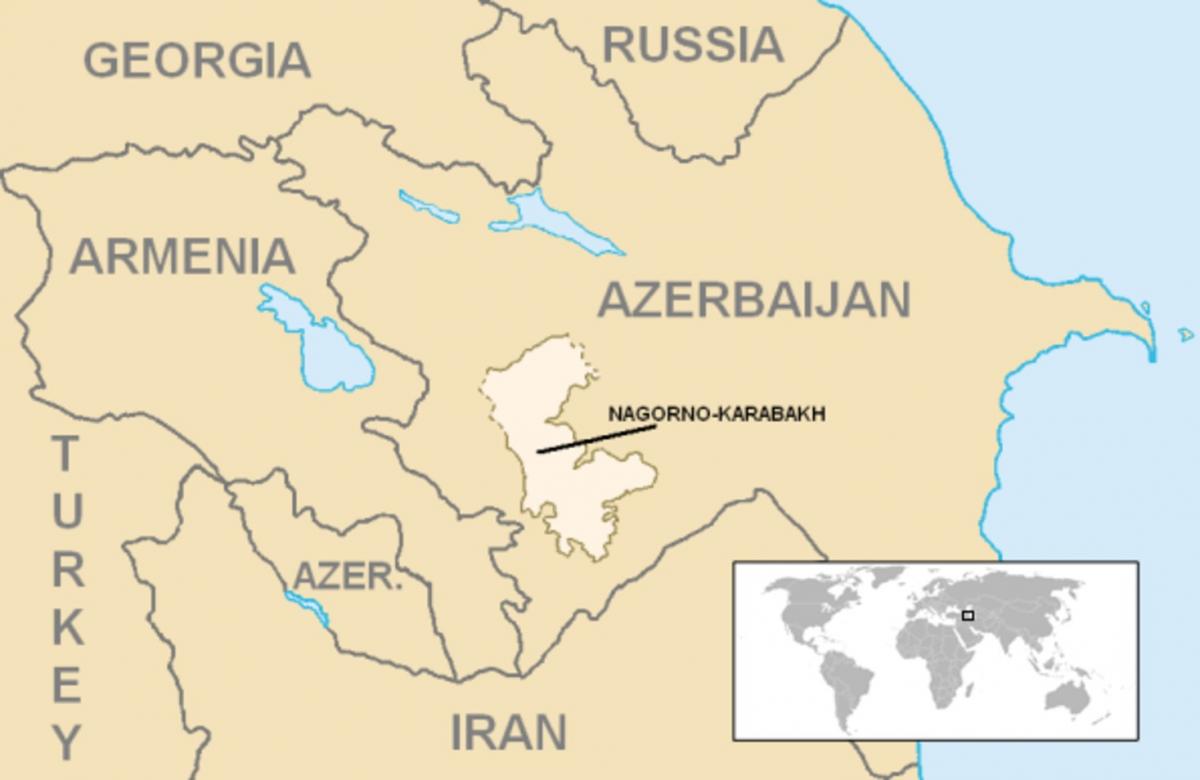 Nagarno-Karabakh on the map
According to the authors findings in that article Nagarno Karabakh was transferred to Russia after Turkmenchay peace treaty signed by Russia and Iran in 18th century. On our days territory of Nagorno-Karabakh territory mainly lived Turkish language speaking people (Not sure, was they relatives of modern day Azerbaijan people or not). Soon Russian Government (Tzar) started to dislocate to this territory Armenian people (Have no clue from were, I presume from our days Armenia's territory), and soon Armenian people became a majority in Nagarno-Karabakh territory.
When Soviet Union collapsed, soon regional war started between two new independent states - Armenia and Azerbaijan over Nagorno-Karabakh. War was going on for some 3 years and about 15 000 casualties were reported. Then in 1994 cease-fire was signed. Armenia gained control over Nagorno-Karabah and some other 7 Azerbaijan districts.
The Peace treaty has never been signed and by time passing one country over other has became more shameless to threaten other to erase from surface of the Earth.
Collective Security
The other country has found a Big Brother in Russia and has founded Collective Security forces, meaning Russian army base is located in Gymri (Armenia). You may have heard that Armenia has decided to join Eurasian Union together with Russia instead to build some unclear future with European Union. So far everything fine - right? Small nation Armenia watching as it's oil rich neighbour Azerbaijan is getting richer and richer and threatening to erase Armenia from all maps is seeking protection and finds it in Russia.
Russia gives ammo, credits and other goods to Armenia in exchange for Armenian companies (Almost everything belongs to Russia in Armenia).
Rich and famous
While Armenia receives ammo for nothing, Azerbaijan is buying hi-tech ammo from ... Russia. Yes, from Russia! Azerbaijan pays market price and buys everything brand new and shiny.
Who benefits from frozen Nagorno-Karabakh conflict? Isn't is obvious - Russia. And while Armenia and Azerbaijan won't sit and talk - there will be no normal regulation of this frozen conflict.
On the other hand it doesn't look - they gonna sit and talk in close future, and Russia will continue to increase it's role in South Caucasus.