Seems I have missed the news  -  starting January 6, 2016 Netflix video streaming on demand is available in Republic of Georgia (and some 130 other countries) - that's fantastic news!
I first heard about Netflix probably back in 2012, during a US trip, back then I was only wishing such service would be available in Georgia. Now, it is! I rushed to activate my account on Netflix and was pleasantly surprised to notice a free one month trial. After then it's just EUR 7.99 (GEL 21) per month for a basic package, which includes unlimited movies and TV shows
Netflix pricing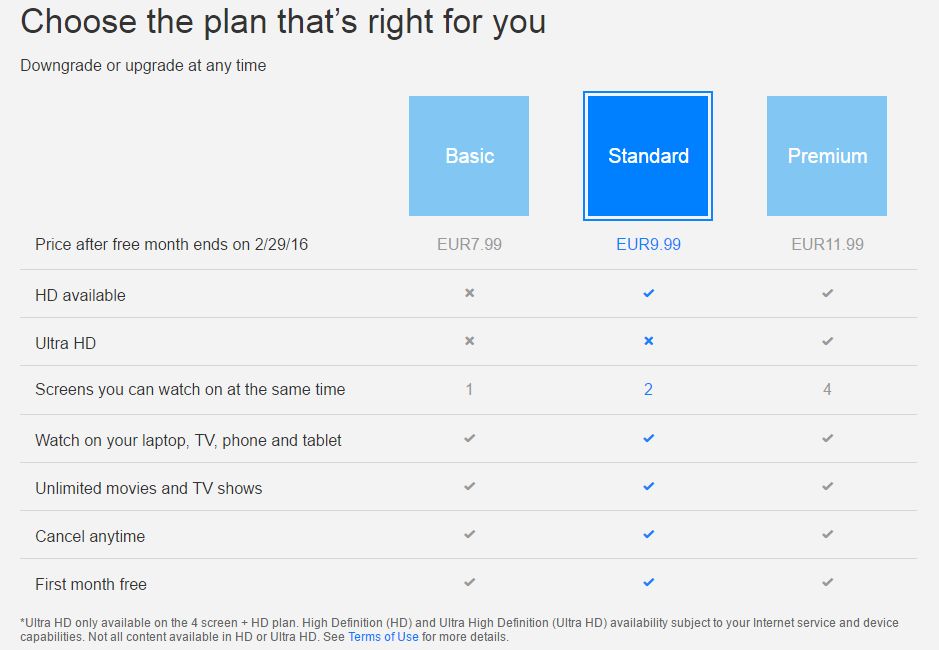 Netflix plans in Republic of Georgia
I opted for a free trial month, and was able to set PayPal as my future payment, bank card is another option.
Frankly speaking I haven't been watching TV for last 5 years for sure (that's about a time I have been living in Georgia). TV stopped to be interesting for me around new Millennium entered, but Netflix might be a game changer, and I'm already starting of thinking to purchase a brand new Smart TV to watch shows and movies in HD
About Netflix
Netflix is an American multinational provider of on-demand Internet streaming media, and of flat rate DVD-by-mail in the United States, where mailed DVDs and Blu-ray Disc are sent via Permit Reply Mail. The company was established in 1997 and is headquartered in Los Gatos, California. It started its subscription-based service in 1999. By 2009, Netflix was offering a collection of 100,000 titles on DVD and had surpassed 10 million subscribers
 As of October 2015, Netflix reported 69.17 million subscribers worldwide, including more than 43 million in the U.S. In January 2016, Netflix reported that it had 74 million subscribers, including 44 million in the U.S.