Today was a quite interesting day, I found I have not done something geeky with Drupal. There are times when I like to do something foolish trying to build some next big thing and today was that kind of day.
I was reading some blogs, start-ups and generated some ideas. I though about my online income streams, niche marketing and was looking to build something from scratch what could generate some passive income - unfortunately I didn't know what!
I headed to Amazon looking is there some untapped niche I could try to dig in - and found one - Amazon Wine.
I'm living in a country which is believed to be a birthplace of Wine - Georgia. Previously I have done several attempts to build a niche site around Georgia. But nothing important (yet!).
So Wine, Drupal, Amazon and Georgia
Since I do have a bad experience of long term site building with cost ineffective site I decided I should use Minimum Viable product approach.
The Minimum Viable Product (MVP) is a key lean startup concept popularized by Eric Ries. The basic idea is to maximize validated learning for the least amount of effort. After all, why waste effort building out a product without first testing if it's worth it.
I decided instead of building a site from scratch dedicated for wine, I will build it on grounds of my blog.
Those of you familiar with Drupal, you know how agile it can be, and in matter of couple of hours of thinking and working with Drupal content types, taxonomies I built a 90% of what I was looking for - a section in my blog - dedicated to Wine.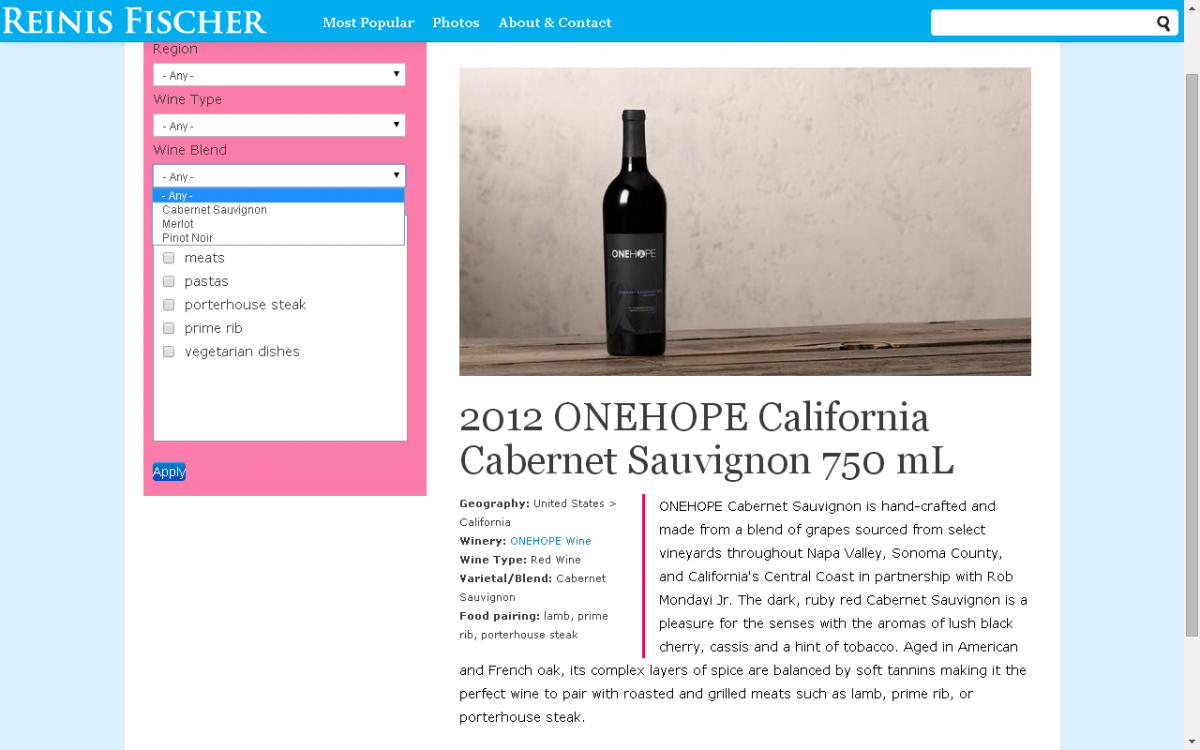 Print Screen for proposed wine section on my blog
I was pretty happy with result I was going to achieve and I started of thinking of wine product promotion on my blog for next 6 months (to test how well my idea of selling wine online could work)
Well, there are a few concerns regarding that - and one of them is Google Panda - for being a thin affiliate site. So I should figure this out latter.
But before that I started to read Amazon Associates Operating Agreement, and luckily (or unfortunately) found that alcoholic beverages are excluded from associates referral fees. I get confused.
I decided to contact Amazon Associates support team to clarify this:
Hi!

I have a question regarding wine affiliates - can affiliates earn commission for wine? or wine is excluded from program?

I red on Operating Agreement that any alcoholic beverages are excluded, would like just to be 100% sure regarding wine :)

Thank you for looking into this
and shortly got answer:
Hello Reinis,

You're correct, we're unable to provide referral fees on alcoholic beverages. We are able to provide referral fees on things related to them though, so for example on corkscrews or wine glasses we can, just not on wine sales themselves.

You'll find an up to date list of all Excluded Products list at the link below:

https://affiliate-program.amazon.com/gp/associates/help/operating/exclusions

The Excluded Products list may change from time to time in accordance with the Operating Agreement. Additions to the list will usually be published in advance and we encourage you to review the list regularly which is available here: I hope this information helps! We hope to see you again soon.

Best regards,
If you are looking to promote Amazon Wines you might end similar like I did.
Of course it doesn't mean I will stop testing new ideas using this approach, I already have dozen of new ideas for replacing wine :)
Do you have similar experience? Share it in comments section below.