Today I was reading an article 'Why Every Business Should Spend at Least $1 per Day on Facebook Ads' on moz.com and I made a spontaneous decision  - I will spend a dollar per day to promote my blog for next 31 days.
It was easier to figure out than to take real action and start promoting. I had no clue what I will promote for next 31 day on Facebook.
My first thought was - hey - I could promote myself as a Drupal developer - but then I decided it might be too tricky - I'm not ready to acquire a new customer next month, so I thought again - this time I figured I will promote Tbilisi Restaurant reviews. 
I have been doing Tbilisi Restaurant reviews for last 6 months, so I decided to give a try.
After all why not?
Everyone loves restaurants right? And since I can target local audience of Georgians, even better. So I quickly developed a simple Facebook Ad: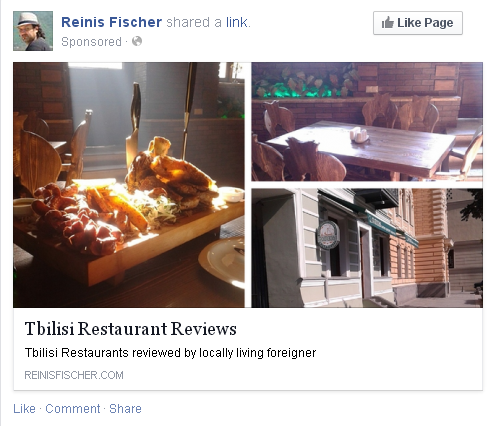 Facebook Ad
I decided to promote my ad on News feeds, mobile feeds and as sidebar ad. I opted to bid for clicks and set my maximum bid to $0.05 (I'm not sure will I manage to keep such low bid  - but I started somewhere, right)
I did set up to run this campaing till the end of March with budget $1.00 per day
Google SERP Position
Another reason I'm doing this Facebook experiment is to clarify - does it gives some boost for SEO. Right now I'm ranking keyword 'Tbilisi Restaurants' on Google on rank 52

Google Keyword rank for a phrase 'Tbilisi Restaurants'
Right now I'm not even ranking actual category page but some other article where those keywords are in title.
Ranking Category or Article pages
This is another question I'm hopping to learn - if there will be some SEO boost, will it help rank category page better than article pages
The bottom line
I'm 100% sure that this campaign won't generate me any income (Ok, I was nasty enough to add a single Google Adsense ad unit on that landing page) - but I believe this campaign could build some brand awareness by popularizing my name in Georgia.
Since my budget for this campaign is $31.00 and in case I will keep my bid as low as $0.05 per click - it should be maximum 620 clicks to my blog from this campaign. It's hard to tell - is it a good number or not. I believe I will be smarter after this campaing will end at the end of March.
On the other hand I'm eager to learn - could it help me to boost a keyword rank in Google's SERP. 
I would call this campaign ideal if some owner or manager of some restaurant would invite me to write a review about his/her place for a free meal for example.
Frankly speaking I do believe that Facebook Ads can be used to build some brand awareness.