The dates for Tbilisoba 2014 are finally known - actually - it's strange - Tbilisoba is of of the most interesting feasts celebrated in Georgia, held in capital of Tbilisi, but each and every year - you never are sure, on which dates Tbilisoba will be held - so I have got few questions on Twitter - asking - maybe I know those dates. For a long time I had no clue. 
Well, starting today I know for sure:
Tbilisoba will be held on October 25-26, in Tbilisi, Georgia
Those who are not familiar with what is a Tbilisioba, here is a nice description from Wikipedia:
Tbilisoba (Georgian: თბილისობა) is an annual October festival, celebrating the diversity and history of Tbilisi, the capital of Georgia. It was first held on October 28, 1979, and has since become an established tradition. The festival features open-air concerts of traditional music and dancing and various cultural events, centered on Old Tbilisi, the historical part of the city. Beyond celebrating the city's past and present, people from all over Georgia represent their region at the fair of the harvest.
History
The festival was created at the initiative of Eduard Shevardnadze, then-the First Secretary of the Communist Party of the Georgian Soviet Socialist Republic, to honor the capital and counter attendance at religious events as part of his program to overcome "manifestations of nationalism" through introducing new "socialist traditions". The event became a celebration of the city's 1,500-year history and had the unintended effect of engaging Georgians more intensly in their national history. The festival remained dormant during the civil unrest of the early 1990s. It was resumed in 1995 and has since been held annually, usually in the latter half of October.
Unfortunately this year - I wont be able to visit this fantastic Georgian feast, due to my travel plans to Spain. (Instead I will have a nice blog stories covering Barcelona and other attractions in Spain)
I remembered last year's Tbilisoba and for those who are not familiar with Tbilisoba I can add just a few photos and hope next year I will have a better luck to visit Tbilisoba, and take more superb photos.
Last year Tbilisoba was held on start October 4th-6th.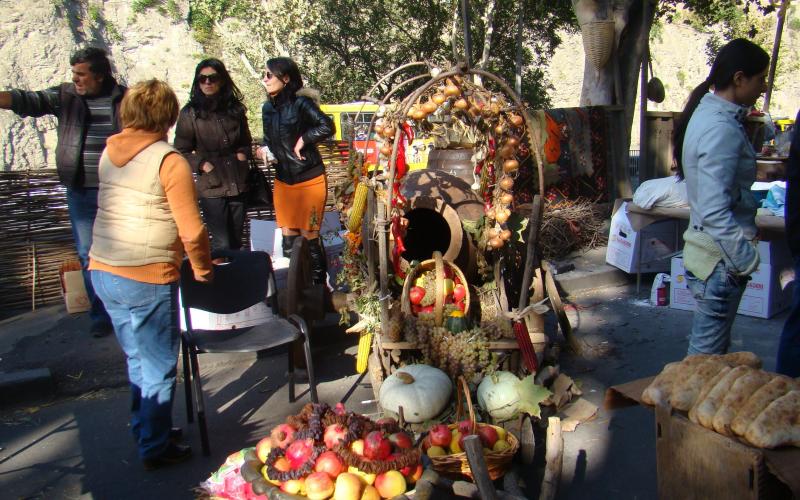 Farmers market at Tbilisoba
Farmers market during Tbilisoba is a great opportunity to buy (sell) local production for very cheap prices.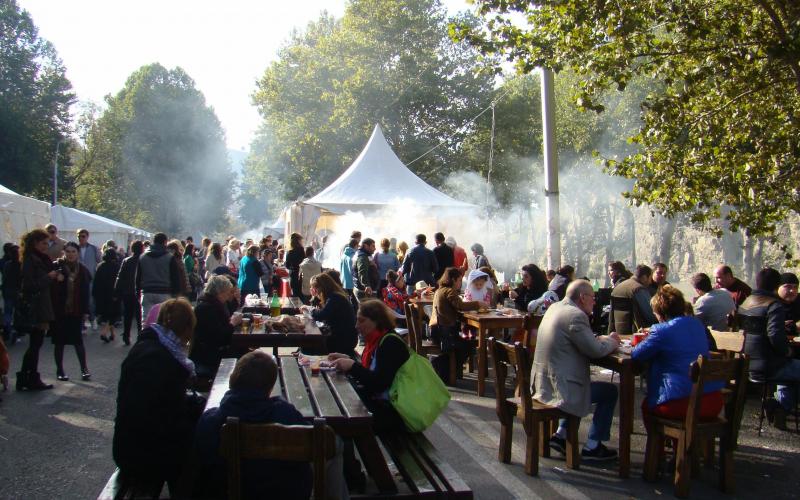 City is covered in smoke - while Tbilisians enjoy their food - grilled barbecue with good home made wine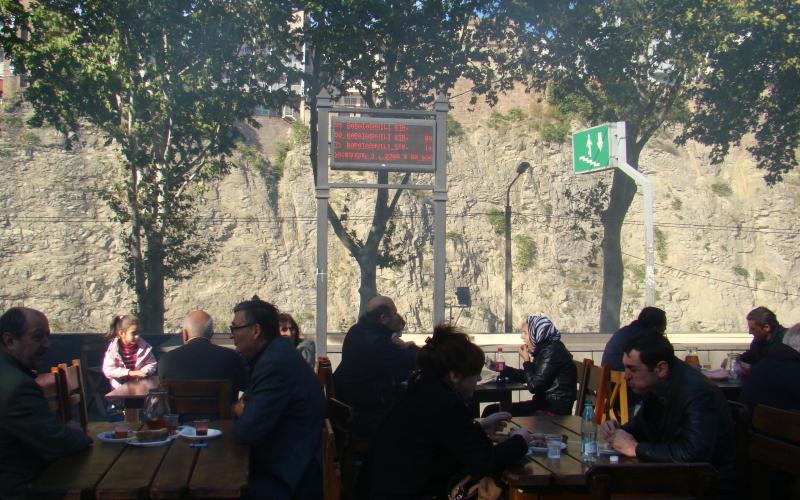 Waiting for a bus? Wait with barbeque and wine
According to Russian news agency - NEWSGEORGIA - 
City hall of Tbilisi is planing to spend about 850,000 Lari  ($486,00.00) to make this feast to happen.
This year Tbilisoba will be celebrated not only in the city centre but in all other neighbourhoods of Tbilisi as well.
Well, what can I add to this -
If you are in Tbilisi on dates of Ocotber 25-26 - don't miss a chance to taste a real home made wine, mcvadi (barbecue) - and just to have a good time.
Althoug it's said that Tbilisoba will be celebrated in every neighbourhood of Tbilisi - my recommendations - go straight to the city centre (Shardeni) to not to miss the best activities.