Toshiba Satellite C55D-B5308 Laptop is a hottest new laptop release on Amazon at the end of Q1 2015. I decided to take a closer look of this laptop and wrap up small review. This model was first released on January 30, 2015 and comes with a budget class price (see below). There are both positive and negative aspects of this laptop to consider before making a purchase. Speaking of negative - folks are complaining it's not fast enough. Speaking of positive - you are getting what you have paid for. So simple. Continue reading to learn more about negative and positive sides of this laptop model.
This computer comes with pre-installed Windows 8.1 operating system and trial version of MS Office. Did I mentioned it has a wide 15.6" inch monitor and it has some weight of 4.8 pounds.
Please note this review contains affiliate links to Amazon.com, by clicking on links on this page and by making a purchase on Amazon site, I will earn an affiliate income from that. Price for this laptop is retrieved by using Amazon Product Advertising APi and is updated daily.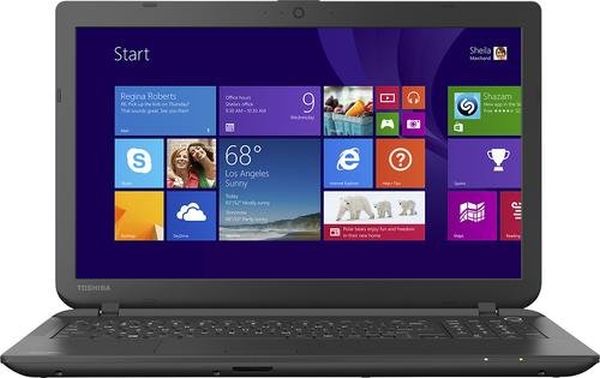 Laptop specs:
4GB DDR3 Memory, 500GB Hard Drive

AMD E1-2100 Accelerated Processor with AMD Radeon HD 8210 graphics

Windows 8 64-bit

Built-in high-definition webcam with microphone, Multiformat DVDRW/CD-RW drive

15.6" LED-backlit TFT high-definition widescreen display with Intel HD graphics
Price: [amazon B00SXX975K listpriceformattedprice] Buy this laptop on Amazon
Pros:
Plenty of Hard Disk storage of 500GB
Pretty fast 4GB memory
Widescreen 15.6" monitor
This laptop will suite you if you are performing a simple tasks on it, like surfing the internet, working with MS Office programms or watching movies.
Cons:
AMD processor
AMD Radeon graphics
It could be pretty impossible to play games, work with more resources needed programs or do anything above pretty basic everyday computing tasks with this laptop.
By reading both positive and critical customer reviews on Amazon for this Toshiba laptop model I learnt few simple things about this laptop:
What others are saying about it
Pretty much reviews claim it's best value deal - it comes with a cheap / budget price and you are getting what you are paying for and I can only agree to this statement. Speaking of negative reviews - some users claims this laptop is slow (and that could be right, by trying to run some above average programs on it), some claim 4 hour battery life is not enough for them. As you can see reviews are as they are. I would still insist for a price you are getting and if you are not looking to run aggressive programs consuming a lot of memory - it's a good laptop. Unfortunately it won't be your best choice to render some heavy video files e.t.c.
The bottom line
Toshiba Satellite C55D-B5308 laptop comes with a budget price of , it will suite you if you are looking to perform basic everyday computing tasks on it. Don't buy this model if you are looking to play games, render video or do anything above pretty basic computing tasks. Take a look at some of the most powerful laptops instead (though they came with a high price attached)
Price: [amazon B00SXX975K listpriceformattedprice] Buy this laptop on Amazon
Recommended accessories:
[amazon B00DUGZFWY full]
[amazon B001DHECXA full]
[amazon B005J7YBRW full]