This morning checking Alexa stats I noticed that my beloved Tourgeorgia.EU has reached Top 500k list in Alexa rank. If precise then this site ranks 484,018. In country Georgia, site ranks 119.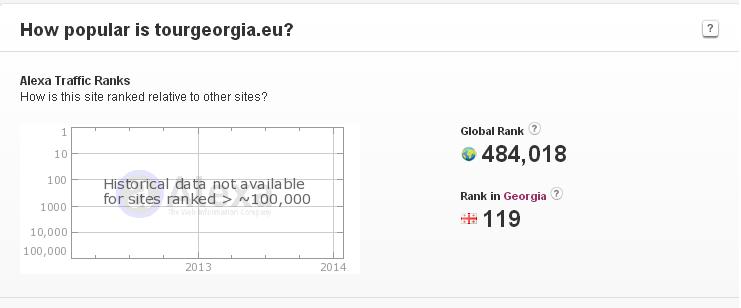 You may have noticed, that I have started monitor Alexa traffic ratings this year, and as well I have expressed my doubts of how accurate are date provided by Alexa. But since data keeps me warm. I like to monitor them, and share with you, my dearest blog reader.
As webmaster, I'm looking to get that site in TOP 100k list. Hopefully this year. But next goal should be TOP 250 k. Lets see, if we will manage this next month, or not.
About Alexa:
Alexa is the Web Information Company. Since our founding in 1996 we've been committed to providing free website analyics for all websites. Today, millions of people from across the globe visit Alexa.com each month to access our web analytics and other services.