Ukraine GDP per capita in 2012 was about $3.866 thousands. Compared to other countries GDP per capita is low. Not to say very low. Ukraine together with Moldova and Georgia recenlty signed Association Agreement with European Union - and that opens European market for them. Will those countries benefits from that and will it eventually lead them to full membership in European Union - time will show.
Some time ago I measured GDP growth in Ukraine, and pattern I noticed was that Ukraine has 3 times lower GDP than in Russia. The question I asked then, and will ask now:
Ukraine's GDP historically always have been more or less 1/10 of Russia GDP. But Russia, speaking of GDP terms per capita, always have been better compared to Ukraine for about 3-4 times. Why Ukraine cannot reach better results in their economy? Will eventual incorporation in EU structures change Ukraine's economy to better side? If so, how?
Ukraine GDP 1990-2012
Back in 2013 there were rumours that Ukraine could go default in 2014. I have no idea has Ukraine has already gonna default or not, but I guess that lost Crimea and separatist movements in Eastern regions in Ukraine pays more than some economical statistics. The question remains - how Ukraine thinks to keep up with other European economies.
For now, Ukraine looks dead for me. And it will take some 10-20 years to get ouf of this hole. Or a huge Foreign investments. I'm sure Ukraine will get some foreign aid. But this country is so huge and poor and I'm not sure that we will find many countries willing to spend their money on Ukraine's problems.
GDP per capita in Ukraine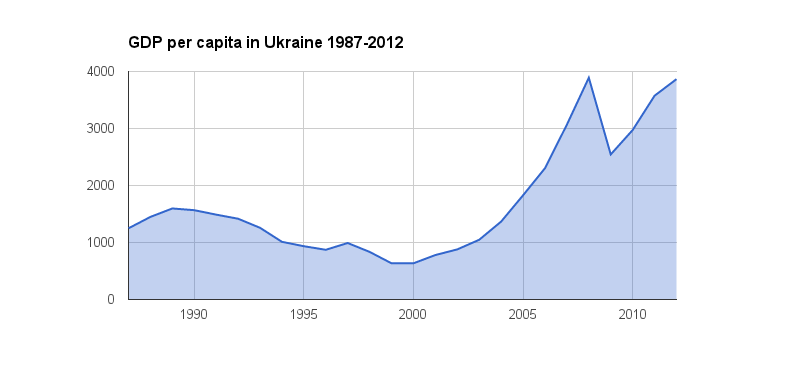 GDP per capita in Ukraine (1987-2012)
In above chart I have gathered data for GDP per capita in Ukraine for time frame 1987-2012. From above chart we can see that lowest GDP per capita in Ukraine was in 1999 and 2000 - $635 per capita. This low I can explain with Russian financial crisis which happened in 1998, and it's easy to figure out that Ukraine's economy is closely related to Russia's economy.
The highest peak Ukraine's GDP per capita gets in 2008 ($ 3891) and again in 2012 ($3866) in 2009 Ukraine's as whole other worlds economy is hit by economic crisis, and GDP per capita hits it's bottom in 2009 making modest $2545 per capita.
What we can figure out from this data?
Seems Ukraine has not yet oriented it's economy to European markets and is closely related with Russia's economy. After latest events in Ukraine when Russia annexed Crimea and separatist movements in regions in Eastern Ukraine it's obvious that Ukraine will start and is already starting to look to West. To integrate it's economy with European markets.
My thoughts are simple - without huge foreign financial aid Ukraine will not recover soon. The questions remains - is European Union ready to invest billions of euros and dollars in Ukraine?
Anyway - lets take a look at International Monetary Fund forecast for GDP in Ukraine for coming years:
Ukraine GDP per capita Forecast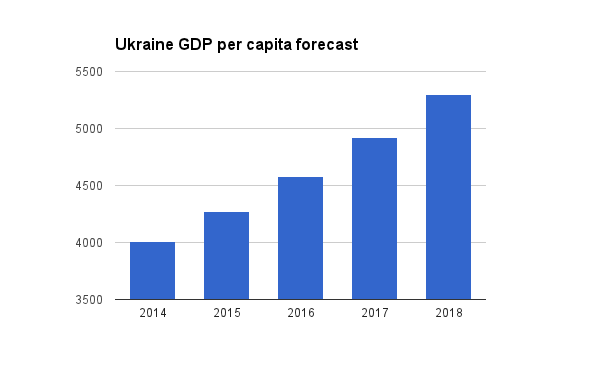 GDP per capita in Ukraine forecast 2014-2018
These are estimates according to IMF. According to this forecast GDP per capita in Ukraine will reach $ 5301 in 2018.
This of course is pretty huge leap for Ukraine, I haven't researched how many people lives in poverty in Ukraine but in case of this scenario some 20% might get out of the damned - under the poverty line.
In 2018 it will be about 30 years already since collapse of Soviet Union, but GDP per capita in Ukraine will be increased just about 4 times since that. I guess one of the biggest problems is not Russia or West. The biggest problem is mindset. Mindset of ordinary citizens. I mean for now it has been already 25 years since collapse of Soviet Union. But people are waiting that others will help them. OK, OK.. I'm not blaming ordinary citizens - ordinary citizens are just puppets to use in mass demonstrations.
Interested in more about GDP in Ukraine? Take a look at this GDP comparison Ukraine vs Poland.