This autumn season we wanted to start with something beautiful. At the end of every September Tbilisi International theatre festival is held. Actually, it might come as a surprise for some, but Tbilisi is city who loves theatres. At least there are dozens of them in the city, there are some smaller ones and then there are some larger ones, the ones which receive state funding.
So, on September 20th we went on one play which were held in frame of Tbilisi International Theater festival
Ve decided to bought some tickets, by using Georgian biletebi.ge (we have used this system before, for buying tickets for other events in Tbilisi, for example concert of Boris Grebenshchikov and Aquarium @ Tbilisi Concert Hall)
We bought tickets for 25GEL in high first flow (balcony) on play of Songs of the Wanderers, took our taxi and went to Shota Rustaveli State Drama Theater.
As usual it happens in Georgia, organizers don't care about queue's:
Queue at Rustaveli theater
It turned out everyone is waiting for the State president:
I had an opportunity to take one instagram with Georgian president leaving his SUV car, unfortunately not the best quality photo: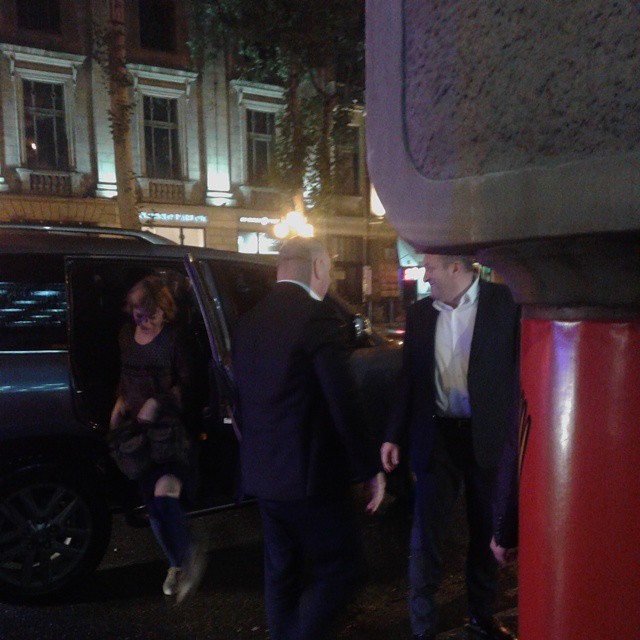 President of Georgia leaving SUV
After couple of minutes we are following and entering Theater building. We found our seats on balcony, and start to wait start of the spectacle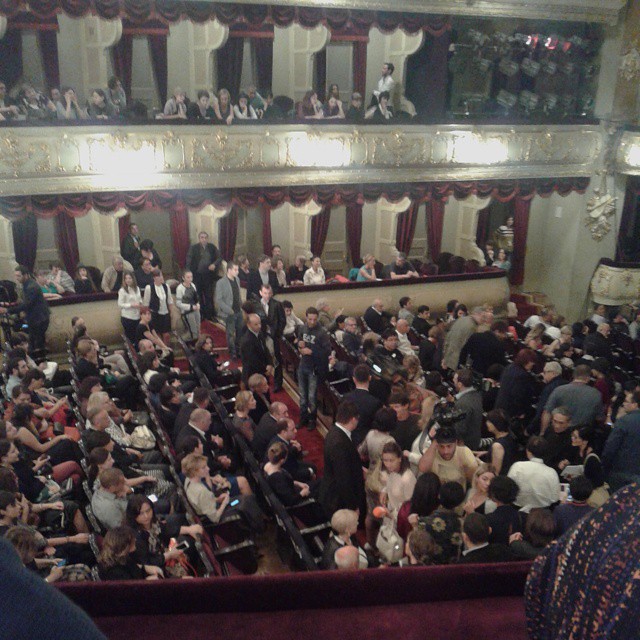 Rustaveli theater
You can see Preident and Mayor of Tbilisi hall sitting in one row in middle of the hall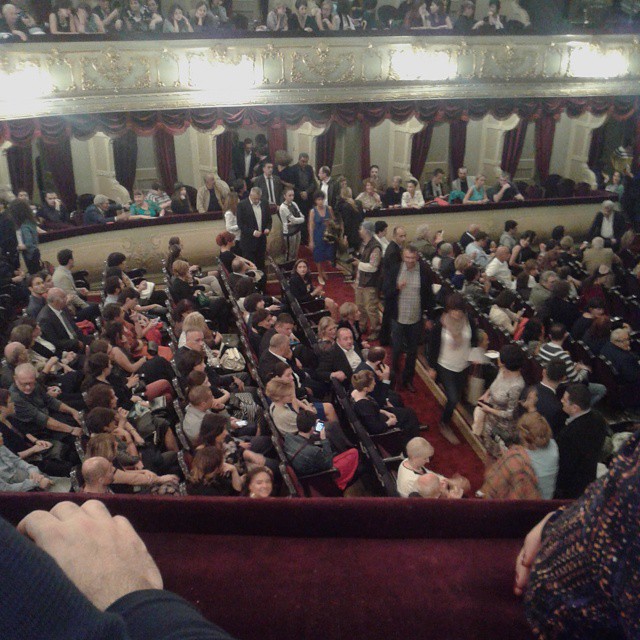 President of Georgia (in middle)
Now comes the funny or sad part - our balcony. Well we had a nice view of President, but we hadn't any view of the main stage.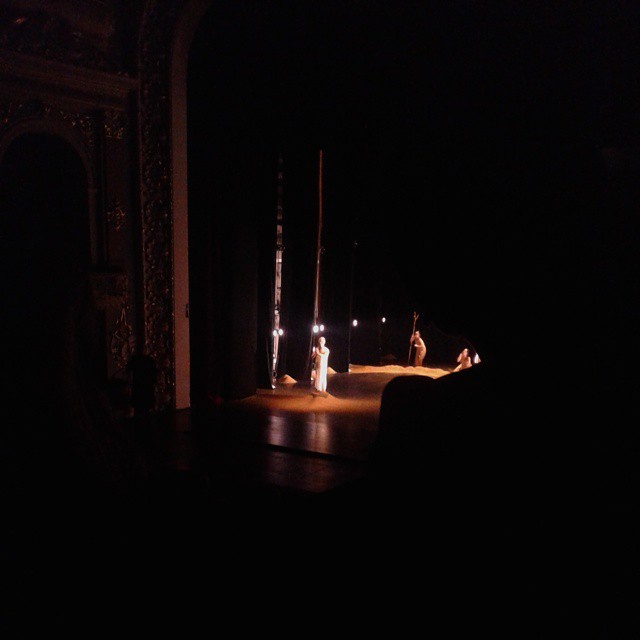 Rustaveli theatre main stage from balcony
We had a second row in balcony. And people sitting in front row blocked any view to stage. Actually, if normally on balcony there would be place for 2 rows and for people in eache cabin, we had 3 rows and 6 people. People from the last (3d) row did stand-up to get a better view. Since I didn't see much from balcony, I called this a ride in marshrutka. After 15 minutes we left, and I doubt I will come back to this theater for a very long long time.
About Rustaveli theatre
Rustaveli National Theatre is the largest and one of the oldest theaters of Georgia, located in its capital Tbilisi on Rustaveli Avenue. Housed in an ornate Rococo-style edifice, since 1921 the theater has carried the name of Georgia's national poet Rustaveli.
The theatre is currently home to three stages including, the main stage (about 800 seats), the small stage (300 seats) and a Black Box Theatre (182 seats) for experimental performances. The theatre is also available for conferences and events and houses a large ballroom, a small ballroom and a small foyer.
The building was originally founded in 1879 as an "Artists' Society." Upon request of the "Artists' Society" several celebrated artists were commissioned to paint frescoes on the walls and ceilings of the basement. These artists included prominent Georgian painters Lado Gudiashvili and David Kakabadze, as well as theatre set designer Serge Sudeikin, who is known for his work for the Ballets Russes and the Metropolitan Opera. Two other important Georgian painters, Mose and Iracly Toidze, eventually joined the project as well. Unfortunately, the unique masterpieces that once adorned the lower level of the Rustaveli Theatre were whitewashed during the period of Soviet rule and only a small portion of the frescoes has been able to be restored.
About Tbilisi International Theater Festival
TBILISI INTERNATIONAL is founded by Tbilisi Municipality, by initiative of Tbilisi Mayor Gigi Ugulava in 2009. Charm of one of the oldest cities in the world - Tbilisi - its atmosphere and diversity , its culture and life, its vitality is something, that could create unforgettable experience and inspiration for all participants.
The Festival runs every year by the end of September, beginning of October and is one of the major events in International life of Georgia. But not only - it is becoming one of the main performing arts events in Caucasia, attracting attention of the most well-known, creative, provocative and innovative theater productions from the world, a meeting point of Europe and Asia, of many countries and places in one of the most beautiful, warm, unique theatrical and cultural TBILISI, the capital of Georgia.
TBS INTERNATIONAL contains of:
INTERNATIONAL PROGRAM
INTERNATIONAL PROGRAM "NEW"
GEORGIAN SHOWCASE + NEW MARKET Of Caucasia and Black Sea Countries
MASTERCLASSES, WORKSHOPS AND EXHIBITIONS
Special events and programs for artists, public and guests will add passion to FESTIVAL.
Cultural cooperation in general and exchanges between artists and other cultural professionals are most important tool for artistic development, for friendship and sure, for peace. We aim TBILISI INTERNATIONAL - with its artistic delights will enliven the development and increase the degree of cooperation and interchange between Georgia, Caucasia and other parts of the world.