Greetings from Tbilisi, Georgia. The weather temperatures are lowering but there is still plenty of warmth and Sun even in the middle of October.
In today's article, I'm going to look at 3 cryptocurrencies - Bitcoin, Ethereum, and Solana and make some predictions/forecasts based on technical analysis and my inner gut for the rest of the month.
The Crypto market, for the past weeks and a couple of months already, has been in a consolidation mode. 
Both investors and traders are looking for price action. Holders would love to see an upward trend, shorters would favor a downward trend. Speaking of me - neither. I'm neutral, but in general, would love more bullishness in the market.
Bitcoin

At the start of October, Bitcoin shortly break above $20,000 and quickly fell under. 
Since April, Bitcoin has been trading under both 50 and 200-day averages with current short resistance set at $20,300, if breaking above it a possible move towards $25,000 is expected. I would look for the support levels at $18,200 which was last tested at the end of September. If we break $18,200 the next move could be to June lows at $17,700 and if we break that there is a great chance we are heading down to the levels of $10,000
Ethereum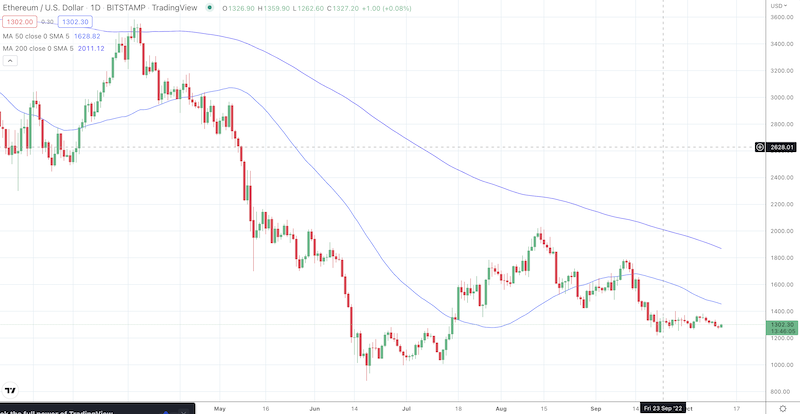 Just like Bitcoin, Ethereum is trading under both its 50-day and 200-day moving average with short-term resistance set at $1,450 (50-day moving average) and support at around $880. If we break under, there is a great chance we are heading toward $500
Solana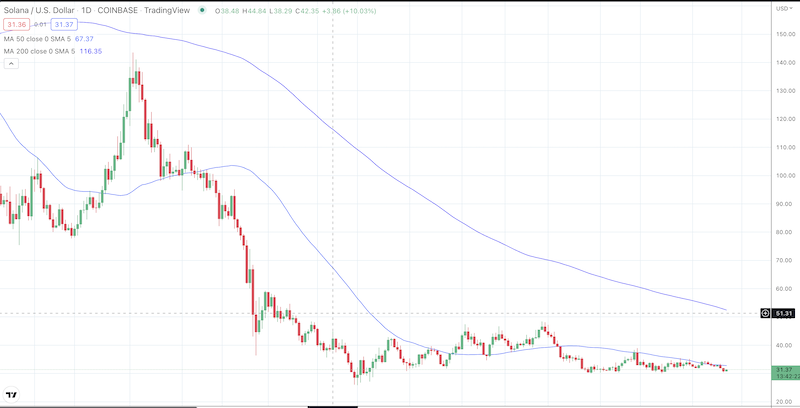 Also, Solana is in bearish territory trading under its 50-day and 200-day moving averages, with the short-term resistance set at $32.82 and support at $26.51.
The Bottom Line
From the three listed above, I would pay the most attention to Bitcoin, as most of the other coins will mirror it. Additionally take a look at the stock market, as Bitcoin loves to follow the stock market.