About a month ago I started to pay attention to length of my blog posts, and I discovered that in past - the length of my blog posts was really low.
This is what I wrote about a month ago:
I investigated my blogging habits and found pretty sad scene - In average I'm blogging 200 words (and in some month even less) in a day. And I'm willing to change that.
In fact, I would like to clarify - it's not about writing just 200 words in a day - it's about writing 200 words per article in a day. So, yes, till end of June 2014 - I was blogging about 200 words per article in a day. And then I decided to increase my minimum word count per article to 400 words. You can read a post on that here:
Starting previous month (July) I have increased a minimum word count per article in a day for 400 words, and here is the result: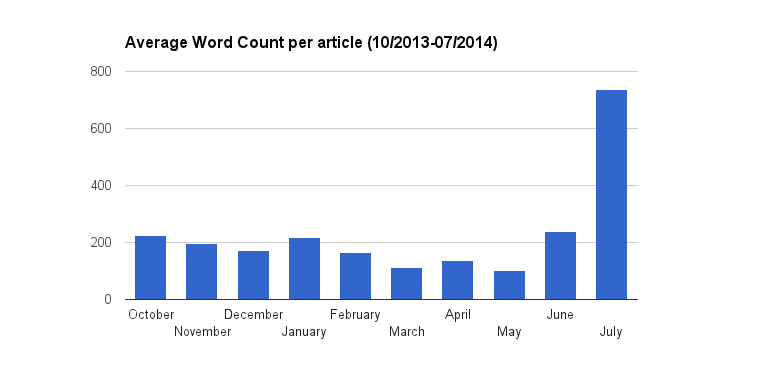 It's just amazing - how such a small decision to increase daily word count per blog post resulted. In July the average word count per article was 738 words. I have more than tripled my word count per article in July.
It turns out - when you have a goal to stick with - it's easy to complete that goal and even bypass. I feel very proud of my 738 words per article in a day.
Honestly speaking there were only 6 out of 26 articles in last month, with less than 500 words (and more than 400 words) per article.
So this month I decided to increase my daily article writing goal - and I'm setting a new goal - to write a minimum of 500 words per article in a day.
Speaking of Search Engine Optimization - I believe that longer posts rank better, with simple answer on that - more text - more to index, more to show. Here is what I told setting 400 words per article goal:
According to my inner feeling and some authoritative resources out there, I have found that Google uses word count as one of the criteria for it's SERP (Search engine ranking position).

And that's true - in month of July, traffic from organic search to my blog has increased by 37%.
Here is a graph from my Google Analytics confirming that:

In above graph is showed only organic search visits for time frame (May- July 2014).
In months of May and June search traffic increased by 4% and 8%. Shortly I boosted my average word count I have experienced 38% growth from organic search. And I believe by continuing my strategy, by providing longer articles, with more detailed info - the search should continue to grow. So that's why I'm raising my goal to 500 words per article starting this month.
Was it hard to write 400 words per article?
No, not at all. Since I started to realize I must pay attention to my articles word count - it seemed even natural to write more detailed articles. And that's the reason I can explain why I did got 738 average article length in previous month. I didn't stick with 400 words - I just made sure the articles are longer than 400, and it went naturally.
Here is another graph showing my total word counts per month: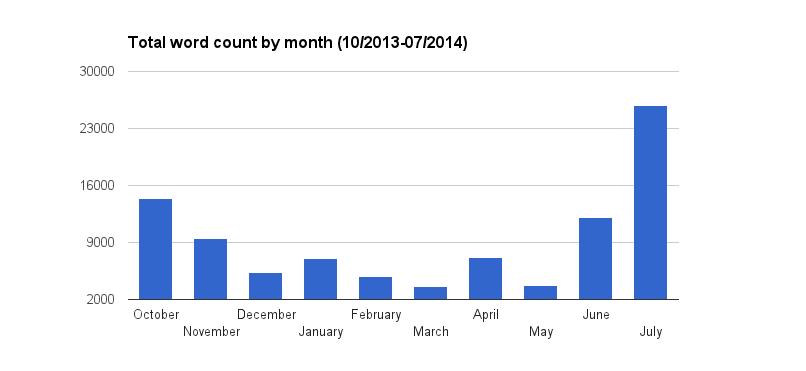 In month of July in total I wrote 25803 words, what is my absolute best month in terms of word count. It's more than double with previous month, when it was about 12000 words.
What is your thougts - does article lenght impacts your rankings and traffic? Leave a comment!