Commerzbank Aktiengesellschaft is a major German bank operating as a universal bank, headquartered in Frankfurt am Main. In the 2019 financial year, the bank was the second largest in Germany by the total value of its balance sheet.
The bank is present in more than 50 countries around the world and provides almost a third of Germany's trade finance. In 2017, it handled 13 million customers in Germany and 5 million customers in Central and Eastern Europe. Commerzbank is a member of the Cash Group. 15% of the shares are owned by the Federal Republic of Germany and 85% are in free float.
This is not trading advice. Investments in stocks, funds, bonds, or cryptos are risk investments and you could lose some or all of your money. Do your due diligence before investing in any kind of asset.
Commerzbank has been on my radar for about two years, and yesterday, after the stock dipped more than 8% I sold my first put option on FRA: DBK
U.S. investor Capital Group sold big stakes in Germany's two top banks - Deutsche Bank (DBKGn.DE) and Commerzbank (CBKG.DE) - a person familiar with the matter said, dealing a blow to both lenders as they seek to rebuild investor confidence. source
Sold 1 Put Option on Commerzbank FRA:CBK - 1.62% potential gain in 2 days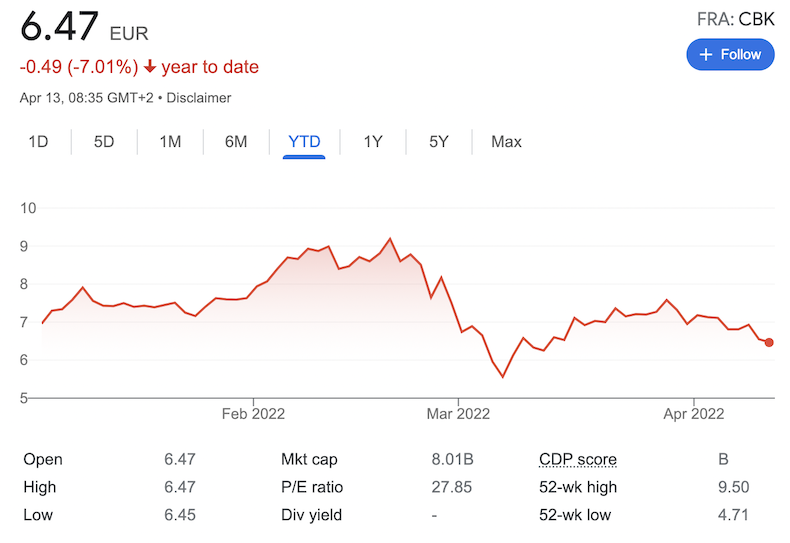 If there is a reason I like Commerzbank stock, the selling call and put options is among the top reasons.
Unlike other German stocks, Commerzbank is not paying a dividend, which leaves dividend investors out of the play. Covered calls and puts on the other hand offer perfect premiums (at least if seems so)
Top 30 Dividend Paying Stocks in Germany (DAX Index)
I find it attractive trading options with Commerzbank as I do enjoy low commisons from my broker account, premiums seems quite reasonable and I like having Commerzbank in the portfolio because of the exposure in EUR currency.
Subscribe to Covered Calls with Reinis Fischer newsletter to learn more about my investments with covered call options