On July 25, 2023, I bought 2 shares of Adecoagro SA (NYSE: AGRO) stock, paying $10.7 per share for our long-term dividend stock portfolio
Adecoagro S.A. operates as an agro-industrial company in South America. The company mainly operates through three segments: Farming; Sugar, Ethanol, and Energy; and Land Transformation. It engages in farming crops, rice and other agricultural products, dairy operations, and land transformation activities, as well as sugar, ethanol, and energy production activities
I decided to add agricultural stock to the portfolio mix, after the Ukraine grain deal collapsed, threatening to skyrocket grain prices across the World.
We are now holding 2 shares of AGRO in our stock portfolio. 
With its yearly dividend of 0.27 cents per share, this latest buy has a dividend yield of 2.52% and will pay us an additional $0.54 every year (after tax). Awesome! Agro is paying a dividend in the following months: May and November.
Using dollar-cost averaging our average cost per AGRO share is $10.7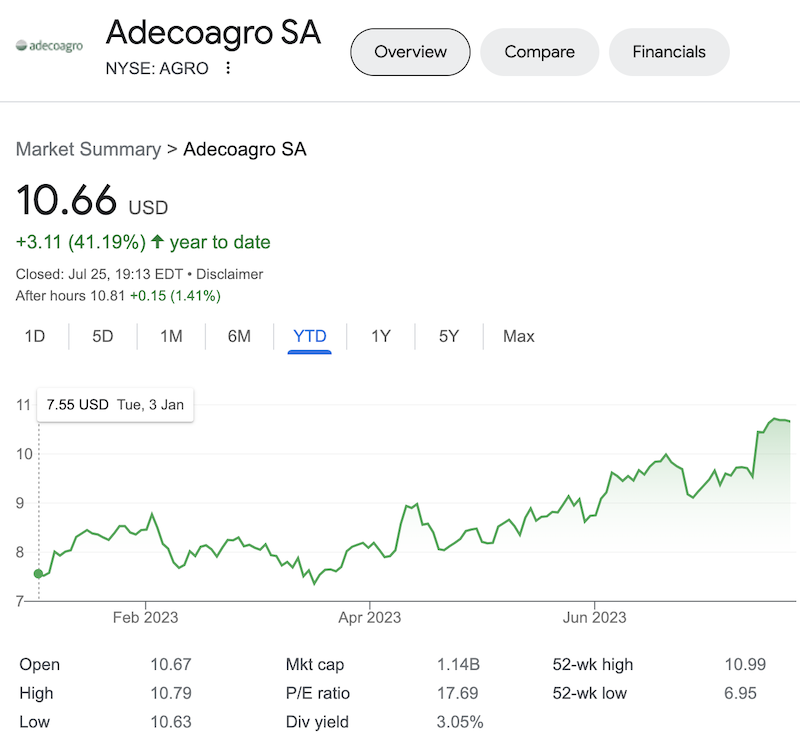 To finance this purchase I was actually selling a put option, and bought this stock from the premium received. See: Sold 1 Put Option on AGRO Stock – 1.97% potential income return in 24 days (29.94% annualized)
98 shares to go once we will be able to start selling covered calls and generate extra income from AGRO stock. I don't have a set time frame when to get there, as I'm planning to buy these stocks from the put options premiums. It could take some 2-3 years once I will get there, or much sooner if the stock will get assigned.
Interested to learn more about our covered call trades? Sign up for the newsletter at coveredcalls.reinisfischer.com