At the end of May 2023, I was managing 3 small investment portfolios. The total value of all portfolios combined was USD 8,039 / EUR 7,530.
Last month our portfolios grow by quite an impressive USD 1,004
One of my short-term goals is to grow portfolios to $10,000. To get there it is planned to deposit additional capital, plus selling options premium.
$2,000 to go before reaching our short-term goal.
Portfolio #1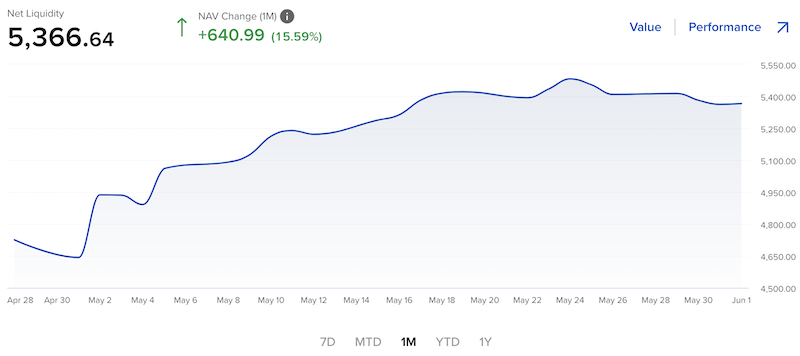 Stellar month for our main portfolio, it grew by impressive EUR 640 last month and stood at EUR 5,366 ($5,726) at the end of the month. For the truth's sake, we deposited an additional EUR 300 in it to have margin collateral for our options trades. So the real growth is just EUR 340. I'll take that!
The main goal for this portfolio at the moment is to grow it to 100 fully covered Amazon shares, so we can sell covered calls on Amazon.
At the end of May, we were holding just 23 shares of Amazon. 77 to go. The average buy price per Amazon share is $104.71. In fact, Amazon stock contributes the most for the growth this month to the portfolio. At the end of May value for AMZN share rise to $120. 
Additionally, we are selling high probability options trades (delta under 0.1) collecting options premium to boost the returns for the portfolio.
In April we were selling options with AMZN, INTC, BAC, WFC, GOOG and TSLA stocks. We got troubled with Amazon 120 call at the end of month, to stay safe we rolled it up to 130 with expiry at the end of June.

In the end, we managed to collect +58.73 USD from expired options trades. That would give about a 1.02% yield from the portfolio's value. If not that Amazon rolled out trade we would book about $150 from options this month.
Portfolio #2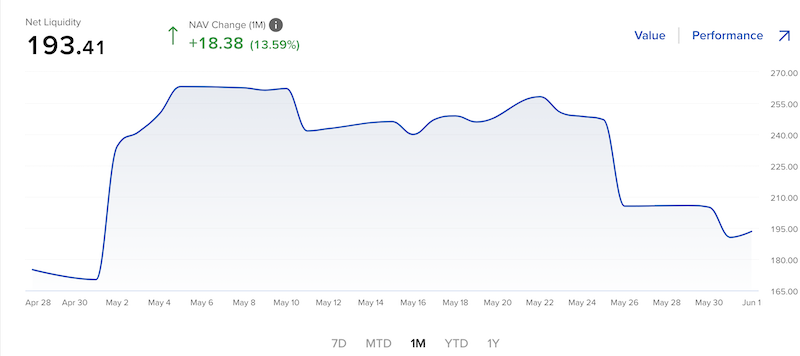 Newest and smallest portfolio so far.
Opened at the start of February by opening a new account with Interactive Brokers and depositing EUR 50/mo. Buying TLRY stock. Currently holding 112 TLRY with an average buy price of $2.75. Last month sold the first covered call option with a September expiry and collected the first premiums, but it seems this stock is going to 0, eventually getting delisted. At the end of May the stock price fell under $1.7. Pure penny stock. Stay away! 
Building a stock portfolio around TLRY stock is not very smart as this stock most probably will go to 0.
Growth in the portfolio comes from additional deposited funds, which were used to buy this penny stock. Ouch! Seriously considering selling off while I can and buying some dinosaur stock - Coca-Cola or Bank of America for example. 
The total value of the portfolio: EUR 193 / USD 206
Crypto Portfolio #3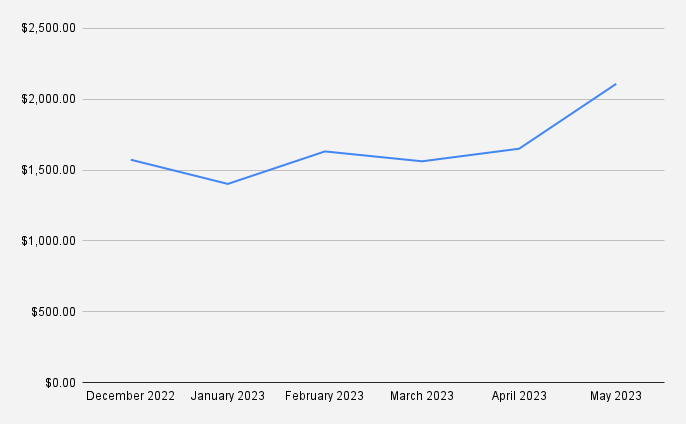 Our third portfolio is a crypto portfolio, where I trade options on the Deribit and ByBit trading platforms with Ethereum and Bitcoin
At the end of May total value of this portfolio was $2,107 (EUR 1,974), and that is quite impressive month-over-month growth of about USD 457. In Mid May I realized I could sell call options on futures with 50x leverage. Will keep experimenting in June.
in May we booked 0.0864 ETH profit from selling call options. 
Overall it was a good month with most gains coming from the Amazon and crypto portfolios. Will try to keep up in June.
Want to follow our trades, Subscribe to the Covered Calls with Reinis Fischer newsletter!