Welcome to the 18th online income report. In this post I will speak about earnings I have made in month of June solely with my blog (www.reinisfischer.com). I like to call this phenomena - a smart passive online income. 
In case you are wondering why should someone publish online his/her earnings - the answer is pretty simple - I like transparency and these reports help me to observe my progress or bounces. Hopefully they can inspire you as well.
Total numbers:
In June I earned in total $662.96 what is an increase for 52.90% if compared to previous month (May) when I earned in total $433.59. I really enjoy to compare my earnings to average and minimum wages across the globe. And so in June my earnings qualifies for a pretty solid minimum wage in Portugal, and gives me pretty average salary in Lithuania. 
My daily earnings last month: $22.10
When looking on these numbers I'm always thinking of a great documentary film - Overpopulated - In this documentary is shown a beautiful story about African family living with less than $1 day and dreaming to buy a bicycle. And how bicycle literally drives them out of extreme poverty.
About blog traffic:
June did setup a new traffic record, and in total my precious blog attracted 22,569 users. I'm really looking to break a 1,000 user milestone per day in next upcoming months.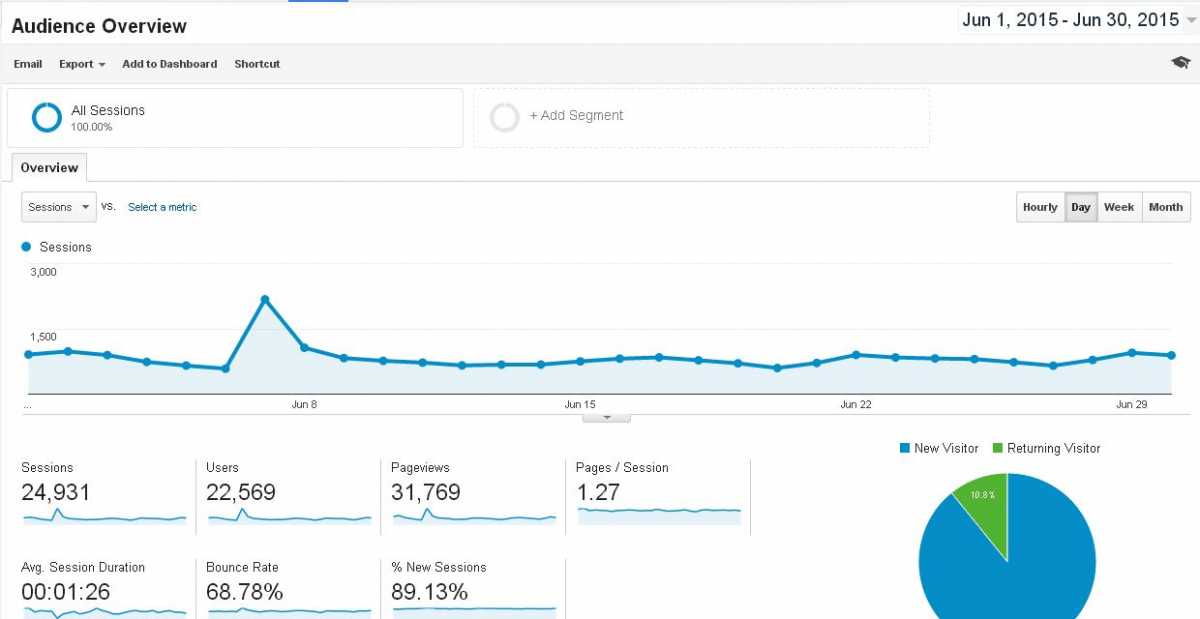 Blog Traffic Report June 2015 Source: Google Analytics
Read more about June statistics: Blog Traffic Report - June 2015 - 22,569 Users
Income streams
In June in total I had 5 income streams that generated some income and one income stream (Linode) reported pending earnings.
I prefer to divide my income streams into a Display Ads and Affiliate programs:
Display Ads:
Google Adsense: $31.43
Amazon CPM: $4.76
Sovrn: $0.64
Now June was the absolute best in terms for earnings from Google Adsense, earnings here for the first time in my blogger carrier cracked $30.00 milestone. Actually it's funny, but I still haven't reached my first Google Adsense goal to earn $40.00 per month to cover my hosting expenses, i did setup such goal more than a year ago. Read more: Setting my first Google Adsense goal.
Sovrn is a newcomer to my income streams - though $0.64 earned here seems a little bit pathetic result, I will leave Sovrn ads on my blog for some next months, to see can things improve here as well.
Affiliate programs:
Amazon associates: $603.38
Booking.com: $21.20
Amazon associates for many months in row is my best performing channel. Speaking of Booking.com, although it might seem as a newcomer to my earnings list, in fact it's not. I have been tried to promote Booking.com for some 3 years already (about for a year on this blog) and just now I can see first results. I do admit booking.com is a damned hard affiliate program for blogers (at least for me) - but I'm glad I managed to earn finally some money out of it this month.
Expenses:
I'm proudly hosting my blog with Linode VPS and yes I'm spending more than $60.00 per month just to power my blog. Well actually I do some Drupal development on those Linodes as well.
June 2015 vs June 2014
This is the part I like the most in online income reports - comparisons how did it go a year ago. A year ago I earned $10.25 per month, I was so proud of myself back then. Now if compared June 2015 vs June 2014, last month I earned almost 65 times more. It's an awesome year on year growth.
Plans, Goals and Forecast for July
As usual I will end my report with goal and forecast sections. I'm looking to reach $500 milestone this month. Simple, it's a summer season and I believe I won't reach more. Anything above $500 next month will be a great achievement.
I do have some plans for this month also - recently I became an affiliate partner for Bluehost hosting and I have already started to do some Bluehost promotion, I don't have yet any goals or forecasts for earnings there, but I have a plan to create 4 articles reviewing Bluehost hosting this month.
Please find first two completed reviews of Bluehost services: