Welcome to monthly blog traffic report, today I will share some data how my blog performed on month of December 2014.
As it turns out this is already 15th blog traffic report.
In short - December was a great month, traffic first time cracked 10,000 milestone and ended with 13,074 unique visitors.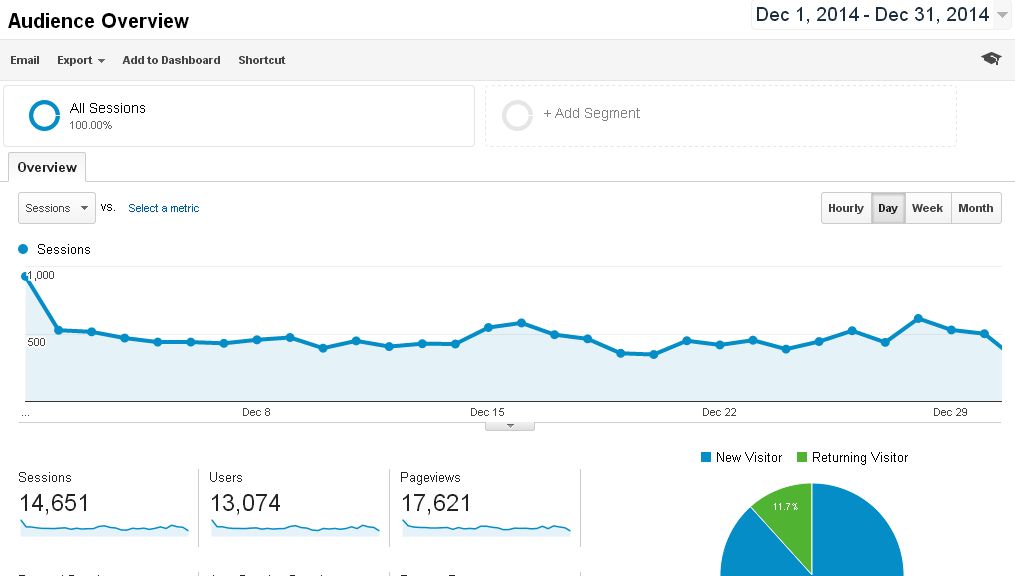 Blog Traffic Report December 2014 (Source Google Analytics)
13,074 unique visitors is a 43.73% growth compared to previous month
It's 3,978 unique visitors gain if compared to previous month
13,074 unique visitors in a month, is an average 421.74 unique visitors in a day, again it's up from 303.2 in previous month.
When I forecasted results for December month (in previous report covering November) this is what I told:
At this point I will forecast results for December - it would be great to crack 10,000 mark, but I will say - a drop could happen, so my goal is to reach at least 6,000 unique visitors in month of December.
Now - the great thing happened and I cracked a 10,000 unique visitors milestone.
December 2014 VS December 2013
My blog is about 15 month old, and I have been doing monthly traffic reports from first month starting. So it's easy to compare were I was a year ago.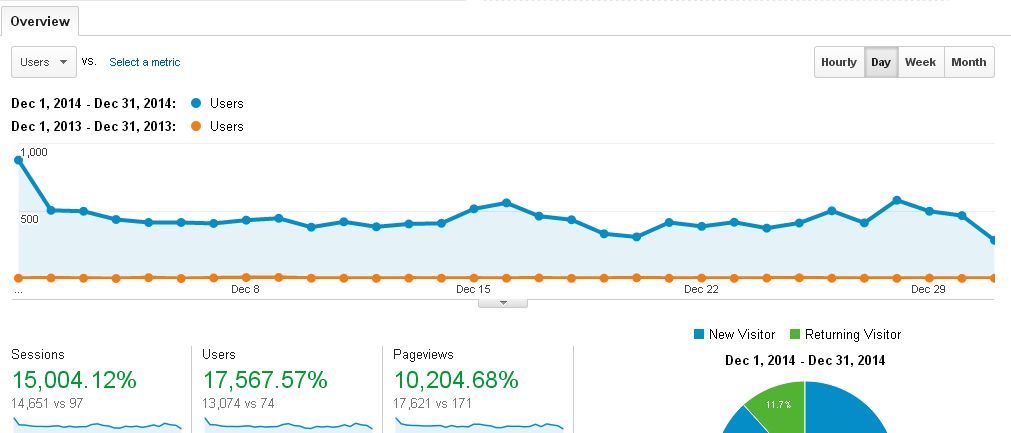 Blog Traffic Report: December 2014 vs December 2013 (Data Source: Google Analytics)
A year ago I managed to attract to my blog really modest, not to say pathetic 74 unique visitors, following words I used then to describe my results:
In month of December my blog has attracted just 74 unique visitors, what is very bad result. It has been already 3 months since I started to blog, and 74 visitors in one month is very bad result. On other hand - I haven't done much promoting, just re-posting to my Twitter account.
Well - I haven't done any social (Twitter) promotion at all this December (Well all of my post are synced to my Twitter account) - but it's pretty impressive 17.567% growth in last 12 month. I'm happy - what else can I add to this.
Road to 100,000 unique visitors in a month
Starting last summer, I have been measuring my success (or failures) to reach 100,000 unique visitors in a month. Since there is nothing much I can analyse (just actual traffic results) - at end of the December - I stand at 13% level of eventual 100,000 unique visitors. I doubt I will reach 100 K any time soon, but it's good to know were you stand right now.
What I have done in month of December
There is no magic or formula - it's just a blog writing and up keeping (maybe a little bit following global trends). In short I have been consecutive bloging each day, starting October 2013 (missing just 2 days in May 2014). Another formula I'm trying to stick with - to write a minimum 500 words article each day.
In days I have no good internet access I'm posting from my phone. I'm trying to stay focused to not to miss a single day of blog post each and every day. That simple.
Traffic sources
More than 80% of traffic in month of December to my blog came from Google search. Social traffic (Facebook, Twiiter) accounts for about 3.67% and referral traffic for some 2.3%.
In conclusion
Last month (December 2014) was a best month so far in terms of unique visitors. It was a first time I ever cracked 10,000 unique visitors milestone.
Speaking of forecast for January - I will keep my forecast modest - 10,000 unique visitors or a little bit less (I'm afraid of traffic drop)