Get prepared before new algorithm is implemented on April 21, 2015.
More than a year ago I already wrote- Responsive website - should I convert my site? Back then I concluded - if you are not heavily dependent on social networks, you should't worry much. This time things have changed.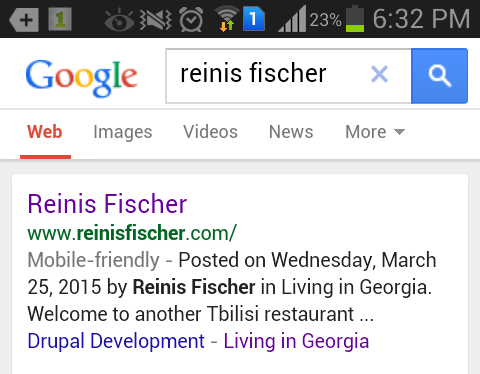 Google search page indicates Mobile-friendly
According to Official Google Webmaster Central Blog:
Starting April 21, we will be expanding our use of mobile-friendliness as a ranking signal. This change will affect mobile searches in all languages worldwide and will have a significant impact in our search results. Consequently, users will find it easier to get relevant, high quality search results that are optimized for their devices.
Now what you should really pay attention - all languages worldwide - it means you are not safe if you are on other domain extension than .com. This ranking will be implemented on all Google sites, including regional.
Significant Impact on search results - I believe those who will have mobile-ready websites (aka Responsive) will just take over ranking positions of those who haven't. Great news for those who are already prepared for this algorithm update, not so great news who aren't (won't be) ready for this update.
Now as already mentioned in above Google statement - this update will affect mobile searches only - meaning those searching on Google using their smartphones. This update won't affect Google rankings for desktop and tablet users.
I have added mobile-friendly support for my blog already for more than one year.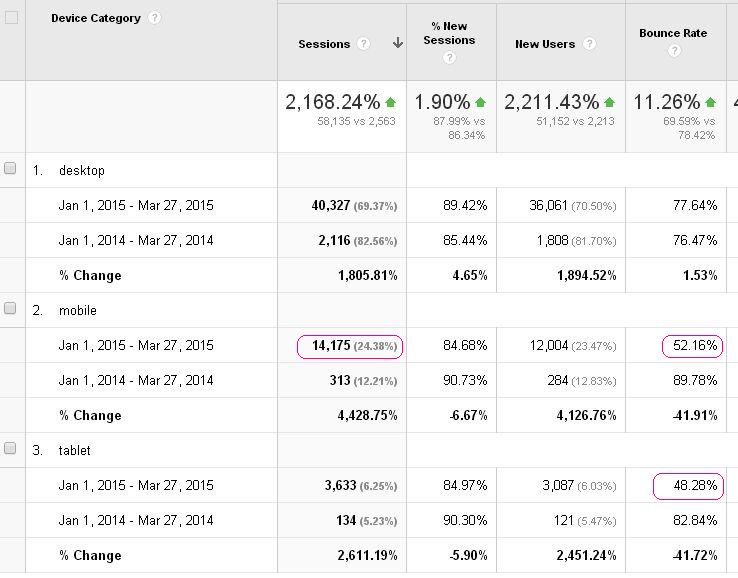 Mobile device users 2015 Q1 VS 2014 Q1
In above graph I have compared my blog's mobile users for Q1 2015 with Q1 2014 (yoy). As you can see from that graph in overall I have doubled mobile traffic to my blog from 12.21% in 2014 to 24.38% in 2015. Another interesting thing is that bounce rates both for mobiles and tablets are much lower than compared to desktop browsers.
How mobile-ready webpage could boost your sales
Again - some time ago I measured Mobile Devices in Digital Economy: My Case Study with Black Friday and Cyber Monday were I found that mobile devices browsers accounts for up to 76% of visitors sent from my blog to Amazon (Did I mentioned those days were tremendous in terms of online income?)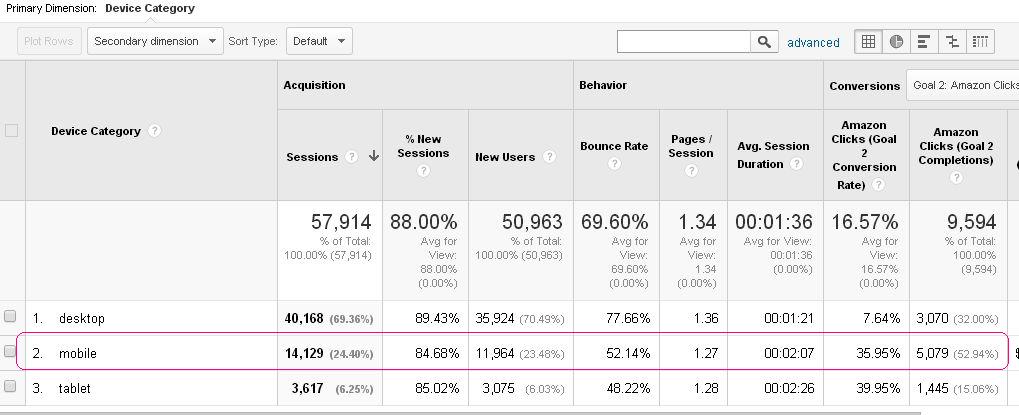 Mobile CTR to Amazon (January 1 - March 27, 2015)
As you can see from this graph - mobile devices had sent more than 50% clicks to Amazon web store from my blog, while desktop user 32% and tablets 15%. Now - I know I'm just a small fish in this big commerce pool, but pattern for me is clear - Mobile users converts better.
The Bottom Line
If your website is already mobile-ready - you are safe, if your website is not mobile ready - again you are safe. As stated above - this new algorithm update will affect only mobile searches so technically speaking if you are not already presented on mobile search you wont be either after April 21.
On the other hand - it's a great chance to get additional traffic to your website using mobile SEO techniques and first of them are to create a mobile friendly website.