A few months ago, I came up with an idea to crowdfund a real estate under construction in Batumi and sell it for profit once completed. I was contacted by a potential investor from Canada, and we kept shaping this idea more and more until we are already ready to make our first co-investment.
High Risk / High Return Investment Opportunity in Batumi Real Estate
A few weeks ago I went again to Batumi, to re-check the situation with Batumi real estate, and did some findings, some were good and some were not so good, I raised my concerns to the potential investor.
Because myself being located in Tbilisi, I decided to make a quick look at Tbilisi real estate market with a focus on new projects under construction.
For this focus, I decided to look at a few properties across Tbilisi city, not prime locations, but lower prices. Because of the lower price we could afford to buy a more spacious apartment, which we could sell with a good profit margin to families with kids or rent it out for long term or Airbnb.
For this quick research, I was using korter.ge website, the more digging in would be required, contacting developer companies or dealing with real estate agents mostly over Whatsapp.
Feel free to contact me via blog or Linkedin if you are interested in Tbilisi real estate investment
Here I'm sharing a few examples available in the market in October 2022
Ecocity Samgori
We could potentially buy a two-bedroom apartment 52.5m2 for about  $26,250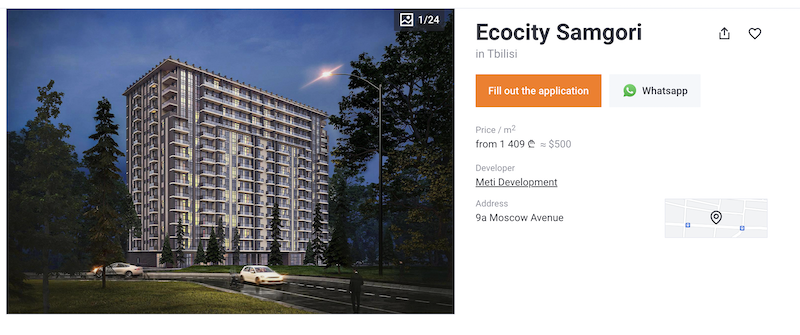 Ecocity Samgori in Tbilisi is a 9-story building, with emphasis on the use of only safe and high-quality materials. The use of European energy-saving technology and special panels for the external wall insulation guarantees a 60% reduction in heating and air conditioning costs. At the same time, the structure of the building has increased seismic resistance.
Underground parking for 60 cars is provided and the ground floor is reserved for commercial premises and storage rooms.
What kind of apartments are available?
The available apartments come in the form of one-, two-, and three-bedroom units with an area ranging from 42 to 108 m2. The kitchen and living room are combined into a single space. Because of this, even the smaller apartments are distinguished by increased functionality. Apartments with larger balconies are available on the upper two floors.
The apartments are handed over with a white frame finish or a complete renovation.
House on Archil Mefe 3
We could potentially buy a 1 bedroom apartment  40.6 m2 for about $20,305 or 2 bedroom 71.61m2 for about $35,805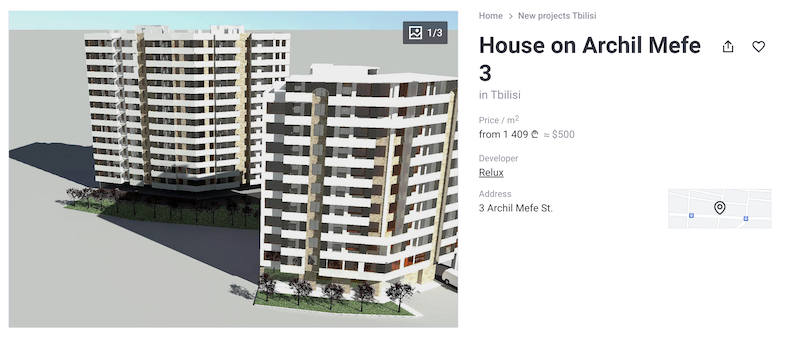 Seems this project has started just recently and it could take a few years to be completed. but the entry price is quite good. installments available with a downpayment just 5%
House on Mirian Mepe 109a
2 bedroom apartment 75.7m2 for about $45,420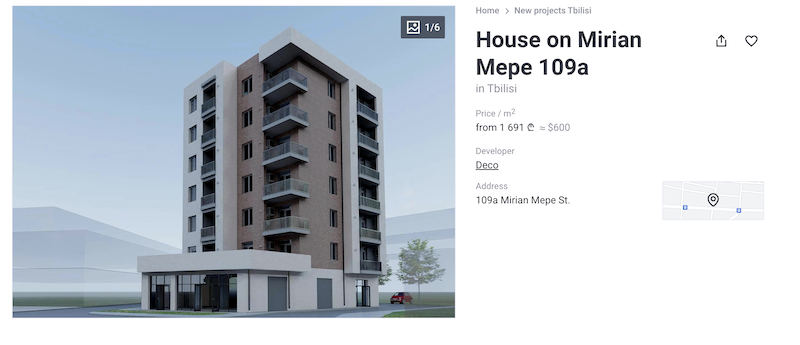 Available in both 1 and 2-bedroom apartments with an average price per sqm of about $600
Dirsi in Tbilisi
2 bedroom apartment 68m2 for about $49,640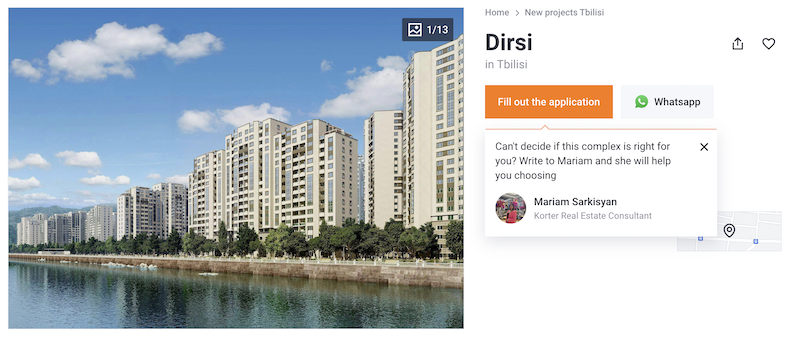 Dirsi is the largest residential complex in Georgia, built according to the city-within-a-city concept, located on the Kura River.
The new apartments are located on Bury Gabriel Salosi Street in Tbilisi, right on the bank of the Kura River. Clean air and beautiful views of the historical part of the city are a good reason for choosing this location.
Dirsi in Tbilisi consists of 20 comfortable high-rise apartment buildings with 16 to 26 floors. The buildings were constructed using monolithic-frame technology while the seismic stability reaches 9 points on the scale of Richter. The comfort of the tenants and the reduction of utility costs is achieved by sound-absorbing, hydro- and heat-insulating systems. A fire safety system is also provided.
The high-rise residential buildings are made in a single architectural style and the facades are painted in light shades. The windows of the apartments offer a panorama of the historical part of Tbilisi, the surrounding mountains and the Mtkvari River.
The available units come in the form of studios, one-, two-, three-, and four-bedroom apartments with an area of ​​30-280 square meters and a ceiling height of 3 m. Several dozens of layout options available, ranging from compact studios to spacious residences.
The apartments are handed over in white frame condition. This means that they are equipped with radiators (central heating), entrance doors, modern double-glazed windows, built-in Italian-style kitchen with an oven, and an extractor fan. The bathroom is equipped with plumbing. Housing is transferred to the owners with high-speed Internet, telephone, and television.
Right, here you go - a potentially profitable business investment idea in Tbilisi.
Feel free to contact me via blog or Linkedin if you are interested in Tbilisi real estate investment