On July 12th, 2022 I bought 60 shares of AMS: INGA (ING Groep NV) paying EUR 9.04 per share. 
I'm now holding 200 shares with ING stock in my portfolio and my average buy price is EUR 9.82. 
The ING Group is a Dutch multinational banking and financial services corporation headquartered in Amsterdam. Its primary businesses are retail banking, direct banking, commercial banking, investment banking, wholesale banking, private banking, asset management, and insurance services
My goal is to invest about EUR 10,000 in ING bank stock by the end of 2022 and sell covered calls on it for generating income. 
In fact, ING bank is the only stock in my stock portfolio for now. Instead of spreading my efforts on 30 individual stocks, I have decided to focus on one - ING bank has been on my radar for a few years already. 
I like ING bank stock for the following reasons: decent dividend paying stock, optinable and European stock.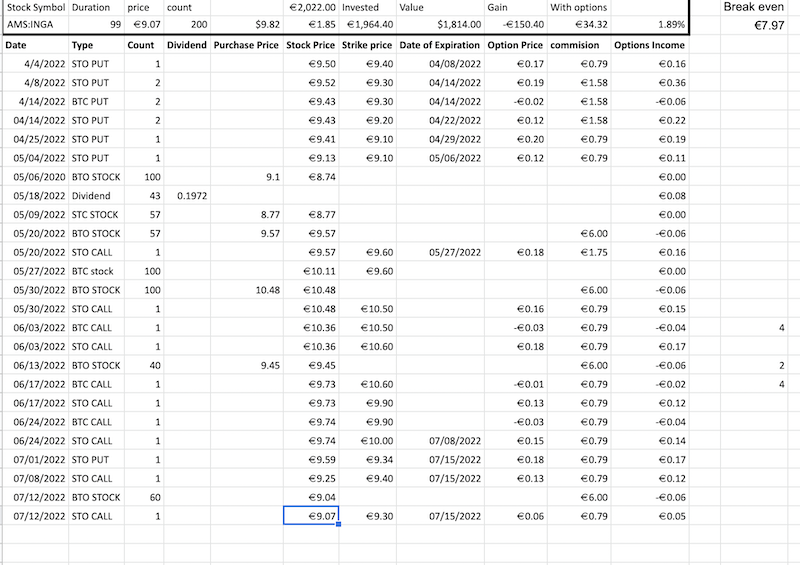 Running Total 25 Trades since April 4, 2022
Options income: EUR 185
As I have already invested EUR 1,964, I need to invest an additional EUR 8,036. For this money, with today's price I could buy additional 888 shares. Total 1088 shares. Enough to write 10 covered calls.
10 covered calls at the current stock price of EUR 9.04 and strike price of EUR 9.1 with an expiry of 3 days would give about EUR 0.13 per share. Total EUR 130. Quite good income in just 3 days. But as my break even price is 9.82 I would actually lose my funds. To avoid losing funds I would need to sell higher strike price options for less premium. 
By investing some small bits over the longer time period I'm euro cost averaging my average buy price, which I believe is one of the best investment approach for the long term. 
For now, I'm investing both the covered calls and put options and ready play the wheel game. Learn more at my paid newsletter: Covered Calls with Reinis Fischer
As I'm already holding 200 shares with ING stock I sold the  second covered call on it with this Friday expiry with strike price EUR 9.3, where my average buy price for this position is EUR 9.32. For this covered call position I got paid EUR 5, which puts my break even at EUR 9.27. In case my 100 shares will get called away this Friday I will realize a small EUR 3 gain from this position. My goal is to avoid assignment and keep with ING bank stock as long as possible.
Right now I have two call position and one put position generating options income from ING bank stock.