On March 17, 2022, I assisted in buying 1 share of AMZN stock for my fiancee. She paid USD 3,101.99 for 1 share.
Our goal is to have 5 shares by June 6, 2022. My fiancee is having her birthday on June 10 and by that time I hope I will be able to assist her in selling the first covered call on AMZN stock as well.
Subscribe to my newsletter about investing with covered calls
Now, long story short AMZN stock is doing a 1:20 stock split on June 6, 2022:
On March 9, 2022, the Board of Directors of Amazon.com, Inc. (the "Company") approved a 20-for-1 split of the Company's common stock to be effected through an amendment to the Company's Restated Certificate of Incorporation (the "Amendment"). The Amendment will also effect a proportionate increase in the number of shares of authorized common stock.

The stock split and the proportionate authorized share increase are subject to shareholder approval of the Amendment at the 2022 Annual Meeting of Shareholders (the "Annual Meeting"), which is currently scheduled to take place on May 25, 2022. The Company's definitive proxy statement relating to the Annual Meeting will include additional details regarding the Amendment.

Subject to shareholder approval of the Amendment, each Company shareholder of record at the close of business on May 27, 2022 will have 19 additional shares for every one share held as of such date reflected in their accounts on or about June 3, 2022. Trading is expected to begin on a split-adjusted basis on June 6, 2022.
Amazon is a company that has brought in more than 100K to me in form of Amazon Associates. Most of my money invested in the stock market comes from the money made on Amazon. I find it double important to buy this stock and have it in our portfolios.
As we actually don't have 15K to buy 5 shares, I have an idea to buy these shares on margin (which is about 6.66x for our Interactive Brokers account). Instead of paying 15K to buy 5 shares, we will actually invest about USD 2,250. This means after this deal we will have a large negative cash balance of about -13K.
But after the stock split, we will have 100 shares priced at about USD 150 each, and we will be able to start selling covered calls. As we still need to buy 4 shares before May 27, I still don't know what will be our average buy price, but in case it will be close to the current or above the current stock price I'm looking at some $150 weekly / $500 monthly from selling covered calls on this stock.
Also, our goal is to keep this stock in the portfolio for at least one year.
here is what stock analysts think about AMZN stock:
The 45 analysts offering 12-month price forecasts for Amazon.com Inc have a median target of 4,100.00, with a high estimate of 5,000.00 and a low estimate of 3,041.00. The median estimate represents a +33.31% increase from the last price of 3,075.60.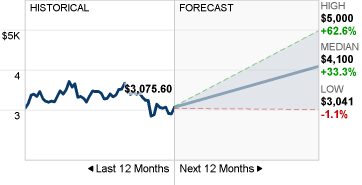 Subscribe to my newsletter about investing with covered calls