I have been working with Drupal for more than 6 years already, but somehow I have not been noticed a cool administrative Drupal module - Administration Views.
And probably wouldn't even notice it for some more time, but things went like this - a customers of mine was looking for a more deeper admin panel for content, users who have created that content and more.
Basically there was a requirement to have a 'reports' functionality when viewing default Drupal admin panel.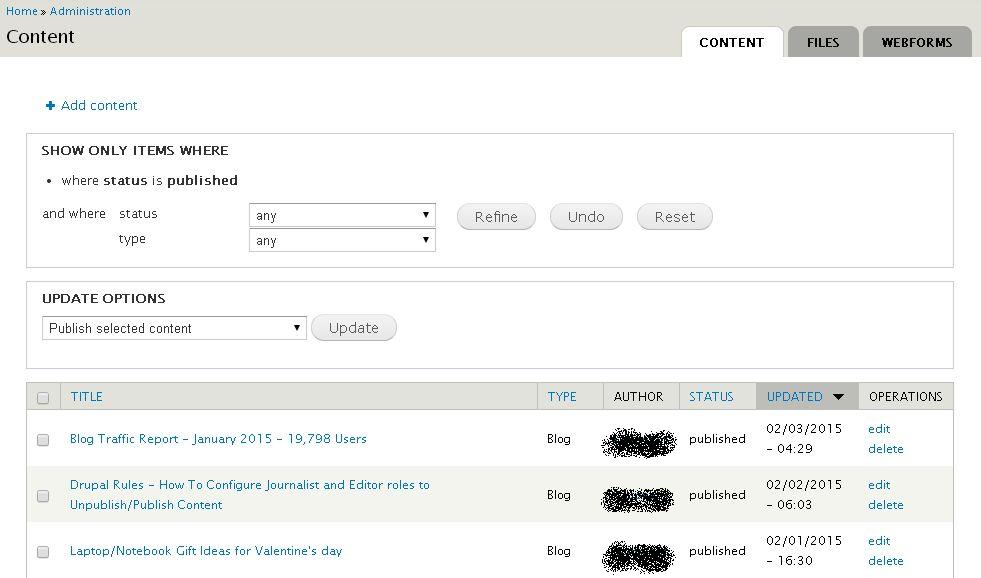 Default Drupal Admin
And this is how content overview page looks after Drupal admin views module has been enabled

Drupal Admin views
The best of all - Admin views are higly customizable, because of it uses Views module - you can style and format your content overview page as you wish.
For example you can add a views header row to display count of all entries e.t.c.
Please feel free to contact me if you need any assistance of configuring Drupal admin views or any other Drupal related issue.
About Drupal Administration Views
Replaces administrative overview/listing pages with actual views for superior usability.
Features
Filter all administrative views via AJAX.
Perform any kind of bulk/mass operations on items in administrative views.
Filter content by title, node type, author, published status, and/or vocabulary.
Filter comments by title, author, node title, or published status.
Filter users by name, ban/blocked status, or user roles.
*Note: If you are upgrading from an older version of Administration views and the default views have been overridden (saved in the database) you could encounter issues or not see any new changes unless you revert these views, so the default in-code views are used. This can be done in the views UI listing or using drush (drush cter views_view --module=admin_views)