On May 26, 2014, I had the opportunity to witness firsthand the celebration of Georgia's Independence Day in the heart of Tbilisi. The day marked the country's 96th anniversary of independence, and as a foreigner visiting Georgia, it was an unforgettable experience.
I was joined by my dad who visited me in Tbilisi, and we decided to venture out and explore the city on this special day.
We made our way to Liberty Square, where a military parade was scheduled to take place in honor of the occasion. As we arrived, we were greeted by a sea of people, all eagerly waiting for the parade to begin. The atmosphere was electric, with music blaring and crowds cheering as Georgian military personnel marched by in their uniforms.
The sense of national pride and unity was palpable, and it was an incredible sight to see so many people coming together to celebrate their country's independence.
As the parade ended, my friend and I wandered around the city, taking in the festive atmosphere and enjoying the sights and sounds of the day. We stopped for a traditional Georgian lunch and shared stories about our experiences in the country. My dad, who had visited me from abroad, was struck by the warmth and hospitality of the Georgian people, as well as the country's rich history and culture.
Looking back on that day, I realize how fortunate I was to witness the celebration of Georgia's Independence Day. It was a reminder of the country's resilience and determination in the face of adversity, as well as its commitment to building a better future for its people. 
Here are few Instagram photos from that day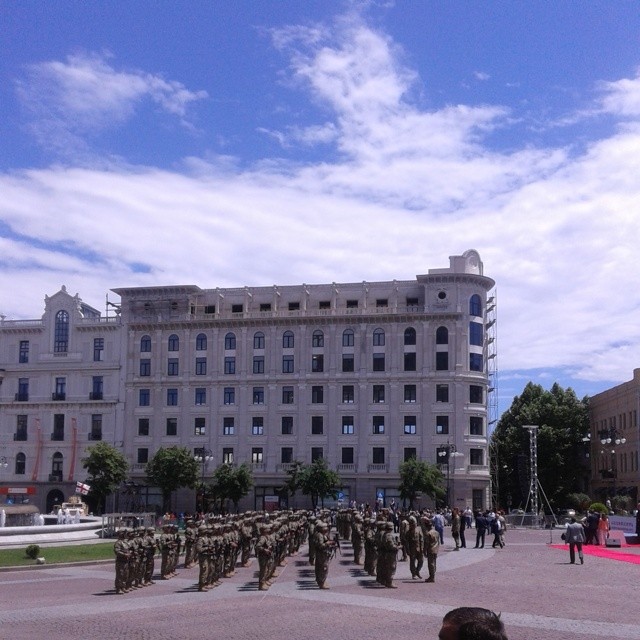 and here is one Instagram from Rustaveli avenue:
What else can be added here? Sakartvelos Gaumarjos!