In this article, I will share details on how I obtained a tourist permit for flying a drone in Israel at the end of 2022.
We booked a short one-week trip to the State of Israel for the 2022/2023 New Year celebrations. I have my DJI Mavic Air 2 drone and I thought it would be cool to bring back some drone memory from Israel as I did from Sri Lanka.
I know different countries have different drone regulations, and I assumed Israel might have one as well. 
I started by simply googling several articles about flying a drone in Israel, at one point I got even more confused and was considering not taking a drone with me to Israel until I found the official website for obtaining a tourist permit for flying a drone in Israel - and it was much easier than I thought. 
There was a 350 ILS fee (about EUR 100), PayPal was available and it took about 10 minutes to complete the registration form (though it took another 24 hours to get the actual permit to my email)
In case you are wondering how to get a permit to fly a drone in Israel in 2025 or 2030, this article might get outdated, as drone rules change quite quickly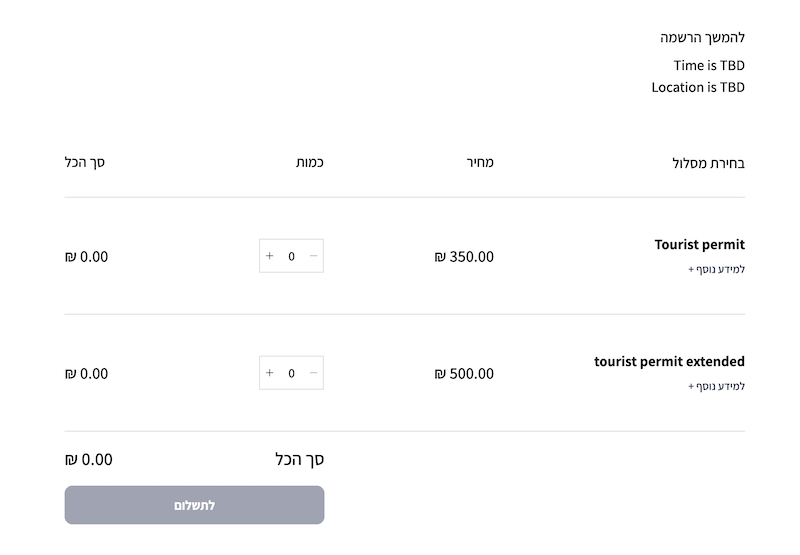 At the time of obtaining my permit for flying a drone in Israel, the website was just partly translated into English, but it was not hard to navigate through it.
I applied for a Tourist permit for a cost of 350 Israeli Shekels (about EUR 100), I pressed the big gray button (supposing it says - continue).
On the next page, I was asked to enter details about myself, my passport number, flight dates, place of stay in Israel (I entered my address with a host from Airbnb), and lastly Drone model and Drone serial number. 
I was presented with several payment options (bank card or PayPal), and I opted for PayPal.
A few more clicks and my registration form was submitted. In the next 24 hours, I received the actual permit to my e-mail address. 
Here are the drone regulations in Israel for hobby or recreation only (2022/2023)
A maximum height altitude of 50 Meters or 164 feet above the ground.
 Keep a distance of 250 meters or 820.21 feet from residential areas and
large crowds.
Drones are not permitted to fly within a radius of 2 kilometers or 1.2
miles of an airport
Drone operators must maintain a visual line of sight (VLOS) with the
unmanned aircraft vehicle (UAV).
Drone operations are not allowed in No Fly Zones and restricted areas.
Frequency operation 2.4 GHz or 5.8 GHz
Now, print out all the paperwork and be ready to show when arriving at the airport in Israel. Hope it helps!